CONTACT

E-Mail & Text: sonrob@msn.com
Web Pages: N. Scott Robinson - - - N. Scott Robinson YouTube Channel
Currently Teaching at
San Diego Mesa College - Music Department

PRESS KITS
Press Kit I - PDF ---- Press Kit II - PDF
DEGREES
| | | |
| --- | --- | --- |
| BA: Music | MA: Ethnomusicology | Ph.D.: Musicology-Ethnomusicology |
CERTIFICATION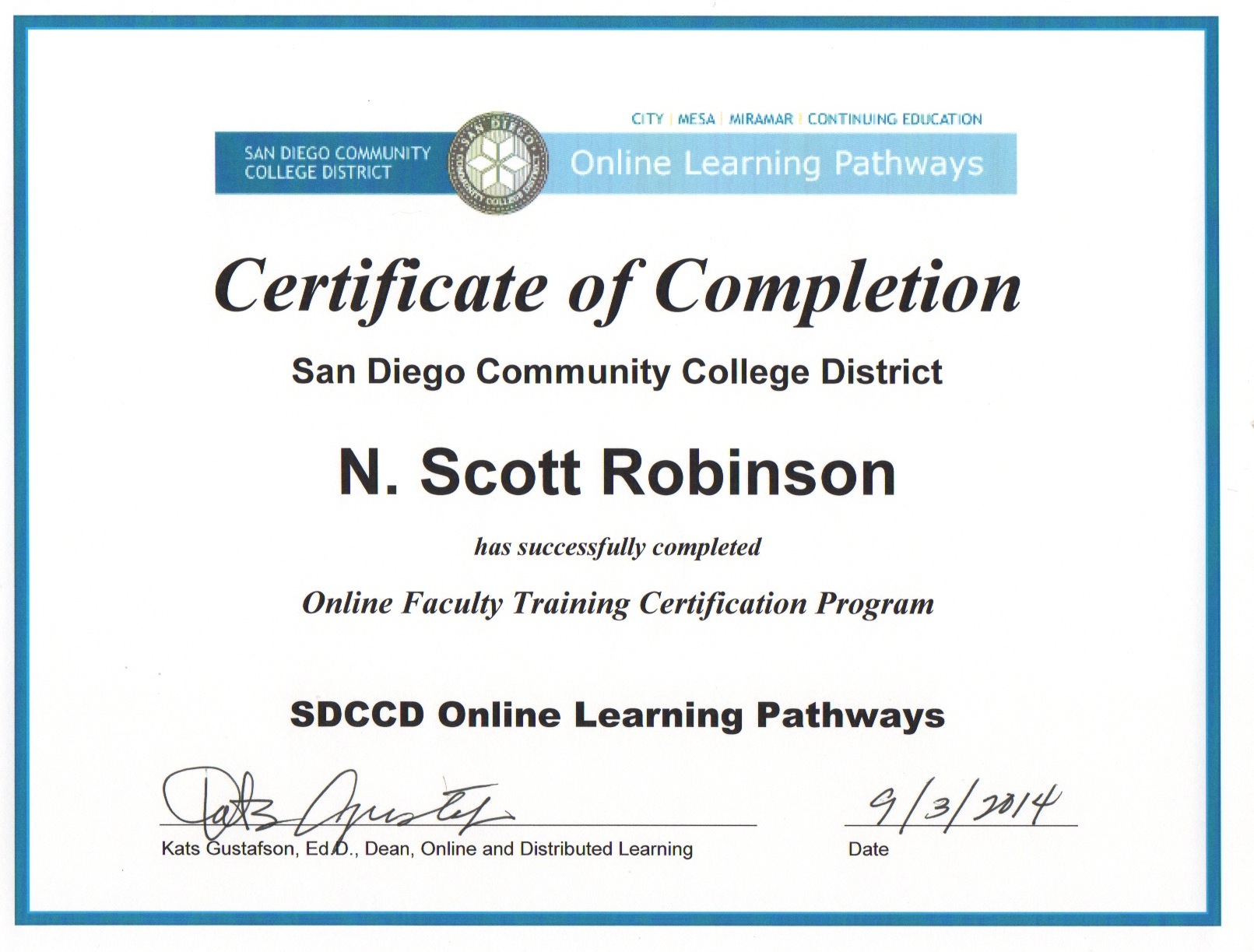 California Online Teaching Certification
BIO
N. Scott Robinson, world percussionist/jazz drummer, and teacher, has performed on the Grammy Award-winning CD Harlem Renaissance with the Benny Carter Big Band. He has also performed or recorded with:
Jazz musicians Benny Carter, Larry Coryell, Howard Levy, John Clark, Art Baron, David Borgo, Peter Sprague, Tripp Sprague, Ken Filiano, Bob Magnusson, Bob Boss, Michael Formanek, Dave Ballou, Thomas Chapin, Robert Musso, Howard Johnson, Jeanie Bryson, Kenny Washington, Jon Regen, Janiece Jaffe, C. Winton Reynolds, The Elktones Big Band, Irving Flores, Jaeryoung Lee, Ed Myers, Whit Williams, Morris Dow, and Daniel Palomo Vinuesa.
World musicians Paul Winter Consort, Glen Velez, Eugene Friesen, Paul Halley, Steve Gorn, Michael DeLalla, Oxymora, and Autumn's Child.
Middle Eastern musicians Simon Shaheen, Haig Manoukian, Brandon Terzic, Naghmeh Farahmand, Houman Pourmehdi, Mohsen Taherzadeh, Pejman Hadadi, Maryam Hatef, Omri Hason, and Eliyahu Sills.
Indian musicians K.S. Resmi, V.K. Raman, Umayalpuram K. Sivaraman, Amrit Nataraj, Ramesh Shotham, K. Sekar, Kamalakiran Vinjamuri, Sumanth Swaminathan, Prasant Radhakrishnan, and Sanjay Kansa Banik.
Irish musicians Skip Healy, Nóiríin Ní Riain, Steáfán Hannigan, and De Jimbe.
English musician Ian Harrison.
African musician Sorie Kondi.
Brazilian musicians Clarice Castilho, Lygia Campos, Marcos Cavalcante, and Gilson de Assis.
Bulgarian & Ukrainian musicians Lot Lorien, Kalin Kirilov, the Solev Family, and Alex Fedoriouk.
American folk musicians Malcolm Dalglish, Andrew McKnight, and Slats Klug.
Western classical musicians Marilyn Horne, Jon Gibson, J.D. Parran, William Moersch, Barry Green, Marina Pacowski, Patrick Roulet, Peter Zummo, Ted Rounds, Fred Benedetti & George Svoboda, The Cleveland Orchestra, New Jersey Percussion Ensemble, The New City Sinfonia, San Diego Concert Band, and The Washington Metropolitan Symphony Orchestra.
Italian musicians Andrea Piccioni, Antonio Melegari, Roberto Chiga, Paolo Pacciolla, Bruno Spagna, Valerio Rodelli, Valentina Ferraiuolo, Vincenzo Gagliani, Enrico Gallo, Laura Fabriana, Edo Zimba, Canaglia Carlo de Pascali, Kamafei, and Andrea Stefanizzi.
Native American musicians Mary Youngblood, R. Carlos Nakai, Bill Miller, Joseph FireCrow, Paul Thompson, and Dawn Avery.
Flute players Mark Holland, Peter Phippen, Ron Warren, Jeff Ball, Jan Seiden, Vince Chafin, and Gary Stroutsos.
Rock and R&B musicians Peter Mayer, Jim Mayer, Regina Belle, Michael Ghegan, Sim Cain, Carol Bui, Dave Dreiwitz, Adam Bernstein, and Gerald Alston.
Country artists Risa Binder & David Ries
Vocalists Kyle Dean Massey, Brent Barrett, and Lewis Cleale of The Broadway Tenors, Moira Smiley, Vivien Ellis, and Haale Gafori.
Percussionists Sattor Fozilov, David Kuckhermann, Robert "Tigger" Benford, Yshai Afterman, Aleix Tobias, Joss Turnbull, Joelle Barker, Layne Redmond, Valerie Dee Naranjo, Benoit Moerlen, Giovanni Hidalgo, Jamey Haddad, Yousif Sheronick, Shane Shanahan, Matt Kilmer, Randy Gloss, Brad Dutz, Murat Coskun, Patrick Graham, John de Kadt, B. Michael Williams, Orlando Cotto, Steve Bloom, Raquy Danzinger, and Randy Crafton.
Scott has also worked under the direction of musical theater and choral conductors Uel Wade, Phil Reno, and Henry Leck, and composers John Cage, George Crumb, Halim El-Dabh, Michael Colgrass, Daniel Goode, Michael Roth, Daniel Hoffman, Andrés Martin, Elodie Lauten, and Annea Lockwood, having recorded two CDs with the Annea Lockwood Ensemble.
He has also accompanied, composed for, and/or performed with modern, ballet, jazz, oriental, and traditional dance choreographers Pilobolus, Mark DeGarmo, David Dorfman, Claudia Gitelman, Don Redlich, Septime Weber, Melina Pavlata, Doug Elkins, Charlie Moulton, Adam Battlestein, Dave Parsons, Tom Thayer, Dawn Wood, Jane Franklin, Lynn Deering, Lisa Race, In-young Sohn, Maurice Fraga, Lucinda Lavelli, Lana Carroll-Heylock, Tom Smith, Marc Ozanich, Mary Ann Black, Colleen Clark, Priscilla Wagner, Luc Vanier, Kim Chandler-Vaccaro, Lorn MacDougal, Catherine Horndorp, Paulette Sears, Patricia Mayer, Gale Ormiston, Sara Hook, Katherine Howard, Sherry Alban, Kate Glasner, Laura Glenn, Anita Gonzalez, Sheila Buttermore, Janet Danforth, Alma Concepcion, Leah Kreutzer, Carol Bartlett, Erica Helm, and Elizabeth Bergmann.
Musical thater productions Scott has sserved as drummer/percussionist for include Bright Star, Willy Wonka: The Musical, The Wizard of Oz, Songs for a New World, Peter Pan: The Musical, A Christmas Carol, The Little Mermaid, In the Heights, Nunsense, Fiddler on the Roof, Joseph and the Amazing Technicolor Dreamcoat, The Color Purple, Legally Blonde, The Wiz, Annie, Miracle on 34th Street: The Musical, Anything Goes, Brigadoon, Cabaret, Gypsy: A Musical Fable, Kiss Me, Kate, The Sound of Music, Sugar Babies, La Cage aux Folles, Little Shop of Horrors, The Music Man, Good News, Me and My Girl, They're Playing Our Song, Kismet, Naughty Marietta, Jerry's Girls, Call Me Madam, The Pirates of Penzance, Man of La Mancha, The Apple Tree, and Oklahoma!
Poets Scott has worked with on spoken word projects include Wendell Berry, John "Lunar" Richey, and Michael Fitzgerald.
N. Scott Robinson has studied with Chad Wackerman, Peter Erskine, Glen Velez, William Moersch, Naná Vasconcelos, Malcolm Dalglish, Keith Copeland, Arnaldo Vacca, Indian musicians Erode K.S. Nagarajan, N. Amrit, Srirangam R. Kannan, B. Shreesundarkumar, T.V. Vasan, N. Seetharaman, N. Ganeshkumar & T.H. Subashchandran, and Shona musicians Chaka Chawasarira & Cosmas Magaya.
Scott has produced two CDs of his music including World View (1994) and Things That Happen Fast (2001) released and distributed internationally by United One Records/Qualiton Imports. Two duo CDs with Mark Holland are Wind & Fire (2009 winner of Indian Summer Music Award) and Lost In The Beauty Of It All (2013). He also has an instructional video published called Hand Drumming: Exercises for Unifying Technique for udu (1996) distributed by Wright Hand Drum. Thirteen scores of his world percussion compositions (seven of which are commissions) have been published by HoneyRock Publishing and New World View Music (2002-2010). Scott has collaborated on 50 additional published CDs, film soundtracks, and audio for book projects with Glen Velez, Benny Carter, Autumn's Child, Wind & Fire (duo with Mark Holland), Malcolm Dalglish, David Borgo, Dawn Avery, Robert "Tigger" Benford, Andrew McKnight, Annea Lockwood, Art Baron, Jon Gibson, Michael Colgrass, Jeff Ball, and Larry Coryell, among others. His music and interviews have been featured on the nationally syndicated Public Radio International show Echoes by John Diliberto, among others.
As a solo artist, N. Scott Robinson brings a breadth of diverse experience in world percussion traditions to the stage and classroom. He has given clinics, panel discussions, and concerts on diverse styles of hand drumming for national and international organizations including the following:
Japan Percussion Center in Tokyo, Japan in 1994
Percussive Arts Society VA/WA, DC Chapter Day of Percussion in 1996
Percussive Arts Society International Convention in Nashville, TN in 1996
Percussive Arts Society International Convention in Anaheim, CA in 1997
Percussive Arts Society MD/DE Chapter Day of Percussion in 2004
Percussive Arts Society International Convention in Columbus, OH in 2007
Percussive Arts Society VA/WA, DC Chapter Day of Percussion in 2008
Percussive Arts Society SC Chapter Day of Percussion in 2009
Percussive Arts Society MD/DE Chapter Day of Percussion in 2011
Percussive Arts Society International Convention in Austin, TX in 2012
Percussive Arts Society MD/DE Chapter Day of Percussion in 2012
Percussive Arts Society MD/DE Chapter Day of Percussion in 2013
Percussive Arts Society International Convention in San Antonio, TX in 2015
Scott was Artist-in-Residence for the following university percussion programs & concert/lecture series:
University of Kentucky in Lexington, KY in 2004
Northern Illinois University in DeKalb, IL in 2005 & 2016
University of Missouri-Columbia in Columbia, MO in 2006
Duquesne University in Pittsburgh, PA in January & March in 2007 (where a percussion ensemble concert was devoted to his music)
Gettysburg College in Gettysburg, PA in December 2008 & 2009
Winthrop University in Rock Hill, SC in April 2009
Towson University in Towson, MD in 2009 & 2010
Goucher College in Towson, MD in 2010, 2011 & 2014
University of Tennessee at Martin in Martin, TN in 2013
Gettysburg College in Gettysburg, PA in 2014 & University of California, San Diego in San Diego, CA in 2015
Western Washington University in Bellingham, WA in 2017
Scott's national performance experience includes appearances at Carnegie Hall, Lincoln Center, Apollo Theater, St. Peter's Church, Cathedral of St. John the Divine, and the Knitting Factory all in New York as well as The John F. Kennedy Center for the Performing Arts in Washington, DC, Severance Hall in Cleveland, Blues Alley in Baltimore, and elsewhere. He has performed and presented at the following national music festivals and conferences:
Shepherd University Percussion & Drumming Festival, WV
Philadelphia International Hand Drumming Day, PA
Native Rhythms Festival, FL
Musical Echoes Festival, FL
Herdeljezi Romani Festival, Washington, DC
St. Louis Symphony Orchestra Explosions Percussion Festival, MO
Festival of Nations, MO
Laumeiere Arts Festival, MO
One Drum Festival, VT
North American Frame Drum Association Festivals, NJ, GA, VT, MO & CA
Yosemite Flute Festival, CA
Potomac Native American Flute Festival, VA
Thunder on the Bay American Indian Festival, VA
Many Moons Asian Festival, MD
ArtScape, MD
Baltimore International Rhythm Festival & Baltimore Rhythm Festival, MD
World Arts Festival, Montgomery College, MD
Magic Valley Flute Festival, ID
Kent State Folk Festival, OH
RhythmFest II, OH
First Night, MO & NJ
Bang on a Can Festival, NY
New Rochelle Clay Festival, NY
Sun to Stars India Festival, NY
Lotus World Music and Arts Festival, IN
Bloomington Early Music Festival, IN
American Choral Directors Conference, MI
Five College Undergraduate Middle East and South Asian Studies Conference, MA
International Guild of Musicians in Dance Conference, NY
International Society for Improvised Music, CO
Society for Ethnomusicology Annual Meeting, CO & PA
Society for Ethnomusicology Niagara Chapter Annual Meeting, NY
Analytical Approaches to World Music Conference, NY
Society for Ethnomusicology Southern California & Hawaii Chapter, CA
International Native American and World Flute Association Conventions, OH & WI
Percussive Arts Society International Conventions & Days of Percussion, TX, CA, OH, SC, MD, VA, TN
His international performance and lecture experience includes the following countries and events:
The Seoul Performing Arts Company in Seoul, South Korea, 1999
Tour of Victoria, Australia with Malcolm Dalglish, 2000
Korea Drum Festival in Seoul, South Korea, 2001
Sinchon Culture Festival in Sinchon, South Korea, 2001
Busan International Improvisation Dance Festivals in Busan, South Korea, 2003 & 2004
Seoul International Crossover Improvisation Dance Festivals in Seoul, South Korea, 2003 & 2004
Seoul Drum Festival in Seoul, South Korea, 2004
Department of Indian Music, University of Madras in Chennai, Tamil Nadu, India, 2005
Agrinio School of Music, Aetolia-Acarnania, Greece, 2008
Greek Frame Drums Meetings in Mesolóngi, Greece, 2008 & 2011
North American Frame Drum Association, NAFDA Canada at The Royal Conservatory in Toronto, Ontario, Canada, 2009
Tamburi Mundi frame drum festivals in Freiburg, Germany, 2009, 2011 & 2012
Frame Drums Italia festivals in Montelparo and Recanati, Italy, 2010 & 2011
Li Ucci Festival in Salento, Italy, 2012
Centro des Artes Musicales de Baja California, Tijuana, Mexico, 2014
His teaching experience includes applied music and academic courses at all levels from undergraduate to graduate. He is a full-time tenured Professor & Chair of the Music Department of San Diego Mesa College in San Diego, California where he is the Coordinator of the Applied Music Program and teaches courses in Western music history, world music/ethnomusicology, popular music, Applied Music-Percussion (classical, drumset, world) & master class, and directs the World Music Ensemble. Previously, he taught as a faculty member in music and/or dance at Towson University, Goucher College, Montgomery College, The University of Akron, Kent State University, and Shenandoah University.
Scott's academic education includes a diverse background in performance, composition, and scholarship. He studied with jazz drummers Joe Hunt, Skip Haden, Ed Uribe, Dave Weigert, and John Ramsey at the Berklee College of Music in Boston, MA from 1983-1984. He then studied classical percussion with Gary Van Dyke and Ray DesRoches briefly at William Paterson University in 1985 where he performed with the New Jersey Percussion Ensemble. In 1989, he began his studies of jazz and classical music at Rutgers University where his teachers included composers Noel DaCosta, Phil Corner, Daniel Goode, jazz musicians Keith Copland, Kenny Baron, Bill Fielder, classical percussionist William Moersch, and modern dance composer and world percussionist Robert "Tigger" Benford. Scott studied ethnomusicology, musicology, and culture studies at Kent State University from 1996-2003 with Terry Miller, William Kenney, Robert West, and composer Halim El-Dabh.
Scott is a graduate of Rutgers University (B.A. in Music & Anthropology in 1994) and Kent State University (M.A. in Ethnomusicology in 2002 and Ph.D. in Musicology-Ethnomusicology & American History/Popular Culture Studies in 2013). As a performer-scholar, his published work often focused on issues relevant to percussionists and includes interviews and articles published in Modern Drummer, Percussive Notes, Rhythm Music, Dulcimer Players News, Batera & Percussão (Brazil), Continuum Encyclopedia of Popular Music of the World, Volume 2: Performance and Production, World Music: A Global Journey, Listen to This, The Other Classical Musics: Fifteen Great Traditions, and The Concise Garland Encyclopedia of World Music, among others. Sixteen compositions of his percussion music have been pulished by HoneyRock Publishing & New World View Music. Scott has presented academic papers on Brazilian percussion & Carnatic music at regional and international meetings of The Society for Ethnomusicology in 2002 & 2014 and at the International Society for Improvised Music in Denver, CO in 2008. He was awarded a Senior Performing Arts Fellowship from the American Institute of Indian Studies at the University of Chicago to study and research percussion in South Indian Carnatic music in Tamil Nadu, Karnataka, and Kerala in India during 2005-2006.
He previously served as the founder, Chair, and Treasurer of the North American Frame Drum Association, Inc., and Chair of the Percussive Arts Society World Percussion Committee.
N. Scott Robinson holds endorsements with Cooperman, Baltimore Drum Company, T-Cymbals, Aquarian Drumheads, Innovative Percussion, Symphonic Steel, Swan Percussion, Descarga Percussion, Meinl, Peterman, Anklang Musikwelt, Decora 43, Bruno Spagna Tamburelli, EAR-asers, Kimerism, and Milltone Drums. For more about N. Scott Robinson, please visit http://www.nscottrobinson.com, http://www.youtube.com/nscottrob, and http://www.facebook.com/nscottrobinson.