LOGO ____________________
CONTACT: Wind & Fire Email
VIDEOS
PRESS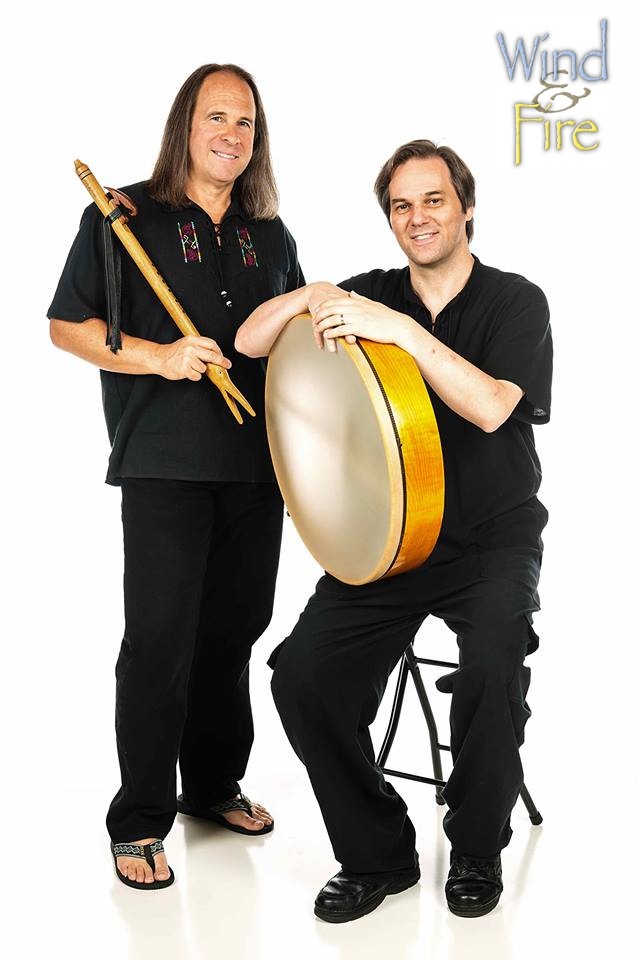 BIO:
Wind & Fire features Mark Holland on Native American & world flutes with world percussionist N. Scott Robinson. Together their masterful concert performances have astounded audiences across the USA. Both skilled musicians and effective teachers, they tour as a unique duo of world flutes and world percussion giving concerts and special workshops on world flutes & world percussion. Their work has been featured on the Public Radio International show Echoes and its live Living Room Concerts, hosted by John Diliberto. Instruments used by Mark Holland: Native American flutes, Andean quena, Indian bansuri, silver concert flute, Middle Eastern flutes, Chinese dizi, animal bone and horn flutes. Instruments used by N. Scott Robinson: Brazilian berimbau, Central & South African kalimba & mbira, West African harps, Arab riq and frame drums, Indian tabla, Nigerian udu, Tuvan throat singing & Australian didjeridu. Mark Holland is considered by many to be one of the leading authorities on the Native American and world flutes performing and recording today. Leader and founder of the ensemble Autumn's Child, Mark Holland has been called, "the Jimi Hendrix of the Native American Flute." His unique approach and usage of the flute along with his technical skills brings about such comparisons. Through his various ensembles such as Autumn's Child, Wind & Fire, and Reflections, Holland showcases the versatility of the Native American & world flutes, creating a new acoustic instrumental fusion; an eclectic sound that is truly one of a kind. Mark Holland started Autumn's Child in 1995 and began his publishing and record label, Cedar 'n' Sage Music in 1997. He has recorded 24 CDs of his own music to date. Holland has a B.A. in Music from the University of Missouri. World percussionist extraordinaire N. Scott Robinson, Ph.D., brings an enormous breadth of diverse experience in ethnic percussion traditions to the stage and the classroom. Currently teaching world musics and popular music at San Diego Mesa College in CA, he has performed with a long list of instrumentalists, composers, vocal artists and ensembles, including Benny Carter Big Band, The Cleveland Orchestra, Glen Velez, Marilyn Horne, Paul Winter Consort, John Cage, George Crumb, Annea Lockwood, Howard Levy, Malcolm Dalglish, Autumn's Child, Gerald Alston, and Jeanie Bryson, among others.
TOURING:
Info on Tour Support for Missouri Organizations
April 24, 25 & 26, 2020
Ft. Walton Landing in Ft. Walton Beach, Florida
Wind & Fire: N. Scott Robinson (Cooperman frame drums, mbira, world percussion) with Mark Holland
CDs
NEW REVIEW in

Overtones vol. 1 (May 2013), pp. 40-41 by Kathleen Joyce-Grendahl

Lost In The Beauty Of It All

by Wind & Fire: Mark Holland & N. Scott Robinson

- Cedar 'n' Sage Music CS 7517 (2013)

15 tracks - 50" of music

$15.00 + $3.00 shipping US and Canada
$6.00 international

Produced by Mark Holland & N. Scott Robinson

Second recording featuring Native American & world flute player Mark Holland (on Native American single & dual chamber flutes, Anasazi flute, bansuri, quena, bone flute, animal horn flute, vocals, & sound effects) and world percussionist N. Scott Robinson on 42 instruments (on kanjira, lap style frame drum, freehand frame drum, tar, berimbau, mbira dza vadzimu in Dambatsoko & Dongonda tunings, sanza, kalimba, udus, hadgini, hang, caxixi, 4 tracks of vocals, donso ngoni, Milltone metal slit drum, water percussion, woodpecker frame drums, cricket calls, starling call, idi/ideh & Togo seed rattles, foot maraca, Kimerism tongue gongs, nipple gong & water gong, Paiste tam-tam, Chinese Chau gong, spring drums, gourd scrape, gourd water drums, djembe with grass brushes, triangles, dan moi). Guest musician: K.S. Resmi (iTanpura & Carnatic vocal).
Wind & Fire

by Wind & Fire: Mark Holland & N. Scott Robinson

- Cedar 'n' Sage Music CS 7514 (2009)

16 tracks, 73" of music.

Produced by Mark Holland & N. Scott Robinson

N. Scott Robinson's first recorded work with Wind & Fire featuring Mark Holland. Released in April 2009 and features Mark Holland on 20 Native American flutes (single & dual chambers & Anasazi) & 3 world flutes (Andean quena, Chinese dizi & Indian bansuri). N. Scott Robinson is featured on 30 different instruments including kanjira, bodhran, ghaval, riqq, 3 berimbau, tabla, sruti box, didjeridu, donso ngoni, mbira dza vadzimu, sanza, udu, Tuvan overtone singing, Milltone metal slit drum, caxixi, hindewhu, vocals, konnakol, delay, hi-hat, and a variety of colorful percussion. Guest musicians: Cory Edwards - piano & Ranya Iqbal - cello.
Past Concerts