Greek Frame Drums Meeting
March 17-20, 2008 in Mesolóngi, Greece
Photo Highlights
Greek Frame Drums Meeting 2008
LOCATION:
They say location is everything and I must say the GFDM 2008 had breathtaking views everywhere you looked. This is the view of the mountain that was directly behind Glyka Apartments (the villa where we stayed). Every morning mist rolled down off the top of this huge peak.
The view of the front of the room where I stayed. Surrounded by such natural beauty each day, one could not help but be inspired to do music. All of the participants stayed here as well, and we bonded rather quickly as a group of adventuring frame drummers. Three guys from Spain arrived the first morning after having spent the night in their car. Apparently, cell phone GPS systems are not the most reliable source for locating prime frame drumming locations!
The view of the mountain by mid-day when the mist had been long burned off by the sun.
Mountains behind me and the sea in front . . . literally. An added plus was a large quiet restaurant less than a minute walk away.
Preparations for the evening fire circle jam sessions complete with Oriental dance and tasty food prepared by Glyka herself! Glyka is the owner of this beautiful property and a published poet as well as a great cook and now a lover of frame drumming and particularly my overtone singing and hindewhu songs! This is the only place I have been to where I received nightly requests for that music.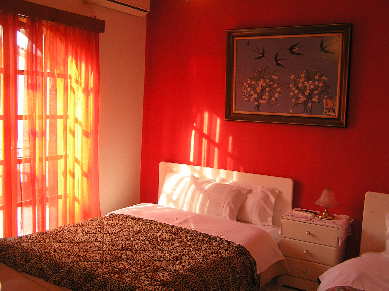 The rooms - very comfortable, clean, attractive, heat, AC, private bath/shower, kitchen, refrigerator. This pic is off of the Glyka Apartments website. My room was blue . . . but I wasn't! Although I don't have any pics of it, I can't say enough about the food. Each meal was a culinary delight and there was always more than you could eat being offered. You won't go hungry in Greece!
WORKSHOPS
Gerasimos Siasos gave a workshop on the Ipirotiko def. He compiled a very detailed book with all the strokes and historical information on the Ipirotiko def in Greece and gave a copy to each participant. His brother now makes these drums in Greece for order.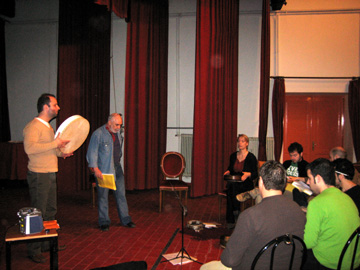 Nikolaos Forlidas gave a workshop on traditional Greek rhythms. The variety of odd meter patterns in traditional Greek music is amazing. Nikolaos also compiled a short booklet that was given to each participant with all the rhythms notated and explained.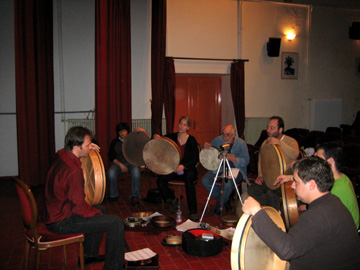 I was brought over to teach a large variety of workshops on the major frame drumming styles, which included modern bodhran, riqq, pandeiro, tamburello, kanjira, and hand held frame drums such as tar, bendir, and ghaval. I was surprised that conducting all the workshops in English was not a problem but I came prepared with many of my ideas about technique and rhythm on notated handouts with plenty of material to last learning sessions well after the event was over. This was a great opportunity to debut material from my forthcoming frame drums method book (due out this summer). 6 hours a day of workshops for several days followed by a 45" solo concert was one of the most unique experiences of my life. Simultaneously exhausting and energizing!!
We spent a day doing a clinic and a small concert at the biggest school for traditional music in Greece (Music School of Agrinio). Apparently, one can study frame drums there, and they have been using my scores as learning material for the last 6 years!
Impromptu accompaniment by Javier Morales.
Student ensemble performing at the opening of the school concert. Their piece was all odd meters, and they never lost it!
I was scheduled to perform with Greek traditional musicians, which I had never done before and could not turn down. Luckily, some of their music was notated (some!). Great players!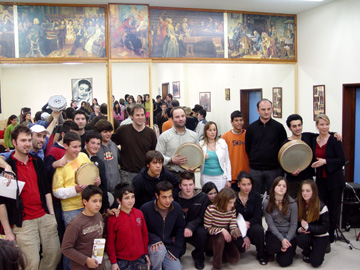 Everyone is a musician at this school!
CONCERT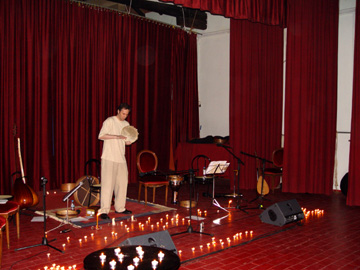 N. Scott Robinson solo concert complete with candlelight! About 300 people came from the local town who thunderously applauded my efforts despite their never hearing this kind of music before. The rhythm is going to get you??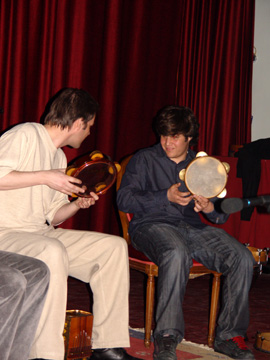 I was so impressed by one of the school's young riqq students that I invited him to join me in an improvisation. He was nervous being only 14 or so but he played great! Watch out for this guy (Mikhalus) in the future.
Concert finale - After playing a 45" solo set and a 20" set of traditional Greek music with saz and ney players, I asked some of the attendees to put a little parting piece together since we had enjoyed each other so much. One of the attendees was an Oriental dancer from Denmark, Marianne Jakobsen, so we did a piece in 7 and it brought the house down.