This page is dedicated to some traditional frame drummers as well as some of the modern frame drummers in the West. The musicians on this page are in no particular order. No bias is meant towards any frame drummers not yet mentioned on this page. Some of these musicians play other instruments but are featured here because of their frame drumming. This page is no longer updated due to time constraints.
BODHRÁN - IRELAND
Mel Mercier

Irish bodhrán player who has performed and collaborated with pianist and composer Mícheál Ó Súilleabháin for over twenty-five years. Throughout the 1980s, he performed extensively in Europe and the USA with composer John Cage and the Merce Cunningham Dance Company. He has also performed and recorded with many of the leading Irish traditional musicians of the last thirty years following in the footsteps of his father, Peadar Mercier, who was the bodhrán player in The Chieftans from 1966-1976.

Irish bodhrán player who is now located in Newfoundland, Canada. Known for his work with the groups The Sons of Erin, O'Reilly's Men, Sullivan's Gypsy's, Ryan's Fancy, Tickle Harbour, and now plays with A Crowd of Bold Sharemen.

Kevin Conneff

Irish bodhrán player who played with The Chieftans since 1976. Conneff was the third bodhrán player for The Chieftans but he sometimes shared the duty of playing bodhrán in The Chieftans with the band's leader Paddy Moloney.

Tommy Hayes

Innovative Irish bodhrán player who was helped form a progressive band of All-Ireland championship winning musicians called Stockton's Wing in 1977 and performed/recorded with them until 1983. He has several solo recordings out and was the bodhrán player in the original run of show Riverdance and in the film Rob Roy.

John Joe Kelly

Perhaps the most refined bodhrán player living today. Plays with the group Flook.

Johnny "Ringo" McDonagh

Irish bodhrán player known for his work with the group Dé Danann (also spelled as De Dannan) from 1975-1983. Their 1977 recording Selected Jigs, Reels, and Songs features a bodhrán solo by Johnny "Ringo" McDonagh. He is the first to develop the modern rim shot and play the bodhrán with a brush.

Colm Murphy

Irish bodhrán player known for his work with the group Dé Danann (also spelled as De Dannan) from 1983-2002. Murphy was the second bodhrán player for the group after Johnny "Ringo" McDonagh left.

Irish bodhrán player and multi-instrumentalist who is known for his work with Lorraine Jordan, Il Divo, Julian Lloyd Weber, Pete Lockett, Bjork, Depeche Mode, Gary Barlow, Uriah Heep, Martin Carthy, Dave Swarbrick, John Kirkpatrick, Broderick, Luke Daniels, Sin É, Linn Tilla, Anne Lister, Eileen McGann, Band of Hope, Lammas, Tim Garland, Brian Willoghby, Lorenna McKennett, Jeff Martin, James Keelaghan, Art Turner, The Afro-celts, John O'Connor, and Michael Flately. Author of The Bodhrán Book, The Bodhrán Video, and The Bodhrán DVD.
Rónán Ó Snodaigh is an Irish musician, poet, and vocalist in the group Kíla. Ó Snodaigh plays the bodhrán with an unusual technique he developed that involves the use of a 6-inch piece of steel pipe that is pressed against the skin with the left hand for glissandi.

Peadar Mercier

Irish bodhrán player who played with The Chieftans from 1966-1976 and is the father of Mel Mercier. Paedar Mercier was the second bodhrán player for The Chieftans (the first was Dave Fallon 1963-1966). Originally, he first played in the group Ceoltóirí Cualann in 1961 with Seán Ó Ríada.
Jesse Winch

American bodhrán player who is known for his work with the group Celtic Thunder since 1977.
| | | |
| --- | --- | --- |
| Irish bodhrán player and percussionist who has worked with groups such as Anuna, Puck Fair, Whirligig, Faolan and Jack L. and is a founding member of the Afro-Irish group De Jimbe. He plays with the Rónán Ó Snodaigh steel pipe glissandi technique and also uses brushes for helicopter-like effects. | | Robbie Harris is an Irish bodhrán player and percussionist from Dublin. He has performed and recorded with artists such as Emer Mayock, Eileen Ivers, Moya Brennan, Stockton's Wing, Bill Whelan, Brian Kennedy, Daimen Demsey, Finbar Furey, Mick Moloney, Puck Fair, Grada, Secret Garden, The Bards, The Fleadh Cowboys, Patrick Mangan, Kevin O'Connor, Martin Nolan, Zoe Conway, Peter Browne, Eoin Duignan, Declan Masterson, Hector Zazou, Sami Moukaddem, Rodrigo y Gabriela, and Kila. In 2000, he compiled and released a double CD called Pure Bodhrán - The Definitive Collection that features a collection of 19 of the leading exponents of the drum from all over Ireland. It features the first ever recording of the instrument made in 1927. In 2000, he relocated to New York City to play bodhrán in the Broadway production of Riverdance. |
German bodhrán player who is recognized as the best player of the instrument in Europe outside of Ireland. He is a member of the highly praised Irish traditional bands DeReelium and Steampacket and played in Germany with different German and Irish bands such as Cara, Joe Burke & Anne Conroy, More Maids, Templehouse Céilí Band, Ian Smith and Steven Campbell, among others.


Svend Kjeldsen

Bodhrán player from Denmark who plays with the groups Crónán and Moving Cloud.
Frank Torpey

Irish bodhrán player who is a member of the Irish traditional music group Nomos. He has played with Riverdance, Michéal Ó Súilleabháin, Luka Bloom, and The Brendan Power Band. Frank became the bodhrán tutor at U. C. C. in 1992 and has since taught on the Masters Degree in Traditional Music Performance at the University of Limerick. He is the author of the Bodhrán CD Rom Tutorial.
| | | |
| --- | --- | --- |
| American bodhrán player located in Oregon. Known for his work with Peter Yeates, Gallowglass, and New Shilling. | | American guitarist and bodhrán player with the rock band Carbon Leaf from Virginia. |
Lucy Randall

Originally a rock drummer, Lucy was inspired to take up the bodhrán after seeing the legendary Irish band De Dannan. Through listening to lots of traditional Irish music, playing at local sessions, and having a natural feel for traditional music, she quickly became a competent player. Soon Lucy was playing regularly with Broadstairs based melodeon and guitar maestro Tim Edey, along with Kent's leading world music band Monkey Puzzle with fiddler Laura Targett and guitarist Peter Gazey. In 2000, Lucy and Laura won 1st prize in the Wiltshire Young Folk Awards, Lucy also taking the prize for Best Instrumentalist. Due to Lucy's respect for all styles within traditional Irish music coupled with an interest in many other musical genres and a technical ability of a very high standard, Lucy is one of the most versatile and creative bodhrán players of the present time. As well as teaching at various festivals and at Hammersmith Irish Centre in London, Lucy has recorded and performed with many excellent musicians including: The Michael McGoldrick Big Band, James O'Grady and Alan Prosser (The Oyster Band), Colette O'Leary (The Bumble Bees), Niel Yates, Seth Lakeman, and Charlie McCarran (Capercaillie) plus many others and is now currently working with Brendan Power, with whom she and Tim Edey performed on the popular BBC TV music show Later With Jools Holland. She is the author of one of the best books on contemporary bodhrán entitled The Goat Whackers Guide to Rhythm!
PANDERETA - SPAIN
Pandereta - Asturias & Cantabria
Pandeireta - Galicia
Panderoa - Basque Country
Pandereteira ensemble from Galicia in northwestern Spain whose members include Felisa Segade Otero, Ana Rodriguez Lareo Gómez, Mercedes Rodriguez Vazquez, Monserrat Rivera Crespo, and Patricia Segade Otero. This group performs a blend of traditional and modern music from Galicia.
Pandereteira ensemble from Galicia in northwestern Spain whose members include Ana Leira, Maria López, Carolina Rodriguez, and Teresa Garcia. This group performs a blend of traditional and modern music from Galicia.
Pandereteres de Fitoria
Ensemble from Asturias, Spain featuring pandereta & adufe players Guadalupe, Lorena, Laura, Silvia, Verónica, and Yolanda who play a varied repertoire of traditional and modern music.
Pandereteiras do Val da Maía ou Maianas
Ensemble from Ames, Coruña in Spain.
Eiravella
All male ensemble that specializes in traditional vocal forms with pandeireta accompaniment from Galicia. Notice both right and left handed players in the photo above.
Charanga O Fiadeiro
Ensemble from Galicia specializing in traditional music from Galicia in northwestern Spain.
Pandereteiras de O Fiadeiro

All female pandereteira ensemble from Galicia in northwestern Spain specializing in traditional music from Galicia.
Xabier Berazaluze "Leturia"

Perhaps the most refined panderoa player from Basque Country in northern Spain. Plays with Tapia eta Leturia Band.

Singer, panderoa player, and multi-instrumentalist from Basque Country in northern Spain. Plays with Oskorri.

Pandeireta player, singer, and multi-instrumentalist from Galicia in northwestern Spain.

Eliseo Parra

Singer, guitarist, and pandereta player from Valladolid in Castilla y León, Spain. His background is diverse as he was involved in rock and jazz bands but in 1984 began performing a type of Pan-Spanish music style that incorporated musical instruments and folk songs from all over Spain with modern jazz, rock, and funk influences.
Xavier Sanchez e Iglesias

Player of the Galician pandeireta with the Belgium group Néboa.
Pandereta

Pandereta is a duo of Galician pandeireta players & singers located in Belgium. They are Xavier Sanchez e Iglesias and Eva Fernandez Palomo.
Ialma

Ialma are a Galician group that play pandeireta and sing, located in Belgium. Their music is a mix of traditional Galician and urban popular styles. The band members are Nuria Aldao, Veronica Codesal, Natalia Codesal, Magali Menendez, and Marisol Palomo.

A Contrabanda

A Contrabanda is a group specializing in traditional Galician music, located in Belgium. Xavier Sanchez e Iglesias plays pandeireta with them.
TAMBURELLO & TAMMORRA - ITALY
Arnaldo Vacca
One of the top tamburello and tammorra (pictured above) players in Italy and a great multi-percussionist and singer. Located in Rome, Arnaldo is known for his work with the groups Indaco, Xicrò, and Boom Boom Language, among others, and leads the group Tamburellando (pictured above).
Most inventive Italian tamburello player in Europe. Carlo Rizzo was born in Venice and was originally a painter. After meeting southern Italian folk musicians, he developed an interest in tamburello, tammorra, and traditional songs from southern Italy. After intense studies, which also included Persian drumming, he engineered his own poly-timbral and multi-timbral tambourines (pictured above) on which he can control the tuning of the skin, application of snares, and the dampening of the jingles in real time while performing. His technique makes his tambourines sound at times like a snare drum, timpani, and tamburello. He is also quite skilled and equally inventive on other frame drums. He is located in France and performs mostly across Europe.

Virtuoso Italian tamburello (pictured above) and tammorra player from Rome. Equally skilled on other frame drums, Andrea is part of the newer stylists who have started using Italian tambourines outside of their tradition, subsequently expanding the traditional techniques. He is the author of the book Il Tamburello Italiano (The Italian Tamburello).

Italian tammorra & tamburello (pictured above) player from Naples who is also skilled on a variety of frame drums, percussion, piano, and in singing. Paolo is part of the newer stylists who have started using Italian tambourines outside of their tradition, subsequently expanding the traditional techniques. Author of the book A New Way of Playing Tamburello.

Tammorra (pictured abve) and tamburello player and singer from Naples with the group Tammurriata di Scafati (that also includes the tammorra player Luigi Matrone and tamburello & tammorra player Piccolo Corrado Veneruso "Spaghettino").

Francesco Manna

Italian tamburello & tammorra (pictured above) player from Naples. He studied Italian tambourines with Arnaldo Vacca and Alfío Antíco and Persian daf with Mohsen Kassirossafar. He has performed with Ancia Libera, Taranterrae, Etnie, Tamburellando di Arnaldo Vacca, Federico Verdoliva, Caterina Pontrandolfo, Daniele Sepe, Paolo Cimmino, Zezi teatro, and Giovanni Coffarelli, among others.
Master Italian tamburello and tammorra (pictured above) player from Sicily. He is also a master craftsman and makes very refined tamburello and tammorra. He has performed with Musicanova, Edoardo Bennato, Vincenzo Spampinato, Lucio Dalla, Fabrizio De Andrè, Vinicio Capossela, Peppe Barra, Renzo Arbore, Roy Paci, Gianni Perilli, Piero Ricci, and Nuova Compagnia di Canto Popolare, among others. His techniques have spread among the younger generation of tamburello players including Arnaldo Vacca and Andrea Piccioni.

Tamburi del Vesuvio

Ten piece Italian group from Rome featuring the multi-instrumentalists & tammorra players (pictured above) Nando Citarella, Gabriella Aiello, Valerio Perla, Umberto Vitiello (playing daf above), and Arabic percussionist Mohammed Abdalla on riqq and bendir.
Gabriella Aiello

Gabriella Aiello was born in Rome, Italy, where she grew up as a singer, dancer and musician. She started out studying classic singing techniques with several teachers and then she got into jazz music. Her main interest, for many years, has been world music. Her meeting Giovanna Marini led to the studying of the traditional Italian musical culture including its folk songs, musics, and dances. She has been collaborating as lead-singer and dancer with several groups performing southern Italian popular music. She performs on tammorra with Tamburi del Vesuvio and also sings with Tarè.

Italian singer, tammorra player, actor, and musician from Rome who also works with Tamburi del Vesuvio. He has worked with Eduardo De Filippo, Dario Fo, Linsday Kemp, Roberto De Simone, and Ugo Gregoretti.
Umberto Vitiello

Italian frame drummer and percussionist from Rome who plays tammorra, daf, and other percussion. Works with the group Tamburi del Vesuvio, among others.

Valerio Perla

Italian tammorra player and Afro-Cuban percussionist from Rome who has worked with Giancarlo Schiaffini & Italian Instabile Orchestra, Nando Citarella & Tamburi del Vesuvio, Jovanotti, Mau Mau, Riccardo Tesi & Banditaliana, James Senese & Napoli Centrale, Mal Funk, Luca di Volo & T.E.S.T. Orchestra, among others.
Andrea Stefanizzi

Left-handed Italian tamburello and frame drummer from Lecce in Salento (southern Puglia). He has worked with Kumenéi, among others.

Roberto Chiga

Italian tamburello & tammorra player and frame drummer from Martignano in Salento (southern Puglia). He has worked with Arakne Mediterranea, The Survivers Band, Ensemble Terra d'Otranto, Skaddia, Giuseppe Gioia e Apulia Ensemble, and Athanaton.

Giorgio Di Lecce & Arkane Mediterranea

Arakne Mediterranea is an association of Italian artists, based in Martignano in Salento (southern Puglia), which for 10 years, together with the co-operation of the University of Lecce, has been dedicated to the preservation and diffusion of the traditions and folk cultures of Salento. The association has given rise to numerous dance companies and folk songs, composed by Giorgio Di Lecce (who is the Director and one of the tamburello players), Imma Giannuzzi, Gabriella Licciardi, Graziella Paiano, Pierangelo e Giovanni Colucci, Francesca Della Monaca, Maria Negro, Gianluca Milanese, Francesco Del Prete, Francesco Frascella, Roberto Chiga and Elio Giordano. The photo below is of an Arakne Mediterranea performance of la danza del tamburo. This group has many great CDs and an informative website.

La Danza del Tamburo

Antonio Melegari

Left-handed Italian tamburello player from Salento (southern Puglia) who plays with the group Kumenéi. He has also worked with the group Mascarimirì.

Matteo Manni

Italian tamburello player from Salento (southern Puglia) who plays with the group Kumenéi.
Mauro Durante

Italian tamburello player and violinist from Lecce in Salento (southern Puglia). He has worked with Ensemble di Terra d'Otranto, Cesare Dell'Anna, Nidi d'Arac, Ambrogio Sparagna, and Piero Milesi, among others.

Pino Zimba

Italian tamburello player and singer from Salento (southern Puglia).
Italian tamburello player and multi-instrumentalist from Salento (southern Puglia) who plays with the group Nidi D'Arac.

Antonio "Uccio" Aloisi

Italian tamburello/tamburo player and singer of traditional music from Salento (southern Puglia). His group is called Uccio Aloisi Gruppu and features other tamburello players including Gianluca Cornovaglia and Domenico Riso. An annual festival in his memory is held in Cutrofiano, Salento each October in Italy.
Francesco Salvadore

Italian tamburello player and percussionist who uses other frame drums in his work with the Sicilian group Unavantaluna.
Francesco Turrisi

Italian jazz pianist and frame drummer who plays great Sicilian style tamburello. Originally from Turin in northern Italy, he is now located in Ireland. He has played with Dave Liebman, Maria Pia de Vito, Fay Claasen, Gianluigi Trovesi, Lucilla Galeazzi, John Ruocco, Eric Ineke, Ronan Guilfoyle, Michael Buckley, Dorothy Murphy, and is the frame drummer for the early music ensemble L'Arpeggiata.

G. Michele Montanaro

Italian tamburello player from Caserta in Campania. He has studied Italian tambourines with Arnaldo Vacca, Alfío Antíco, Nando Citarella, and Andrea Piccioni. He has performed with Sonia Maurer, Sara Modigliani, Michela Musolino, Andrea Piccioni, Pino Pontuali, Arnaldo Vacca, Felice Zaccheo, and Gianluca Zammarelli, among others, and is very adept at Brazilian pandeiro style juggling with the tamburello.
Ninad Massimo Carrano

Italian tamburello player and frame drummer from Rome. He teaches at the University of Music, Rome and has worked with Teresa De Sio, Mimmo Locasciulli, Ornella Vanoni, Fabrizio de Andrè, Karl Potter, Massimo Moriconi, Mariapia de Vito, Rita Marcotulli, Nuova Compagnia di Canto Popolare, Lucilla Galeazzi, and Tony Esposito, among others.

Giulio Varricchio

Great Italian tamburello & tammorra player with the group Annasulea.
Tiziana Valentini

Italian tamburello & tammorra from Rome who plays with the amazing group Ta Travudia who play a blend of various Italian, French, and Greek styles.

Valentina De Monte & Maddalena Pantaleo

Italian tamburello & tammorra players with the group Lingatere.

Domenico Candellori

Italian tamburello player and frame drummer from Bologna who has worked with Gaetano Maria Palumbo, Juredurè, Claudio Cavallo, Las Migas, Gilles Coullet, Zohra, Tambours du Mediterranée, Dakkaroudania, Babylon System Rebels, De Andrè Quintet, and Fulvio Silvestri, among others.
Francesco Semeraro

Italian tamburello player with Tre Tarantellae.

Giovanni Parrinello

Italian tamburello and tammorra player from Rome.
Marcello Colasurdo

Italian tamburello & tammorra player.

Saverio Paternoster

Italian tamburello player.
Ciro Raciti

Italian tamburello player from Naples with the group Gli Antichi Cantori.

Luca Rossi

Italian tamburello & tammorra player from Bologna.
PANDERO - MEXICO
(1930-2006)
Legendary pandero player from Tlacotalpan, Veracruz in eastern Mexico. Evaristo Silva, known as "Varo" was born in Tlacotalpan on September 30, 1930 and enjoyed different things during his life such as fishing, house painting, and playing baseball, among others, but what really was trasendental on his life was music and dance. His first conctact with music was singing "La Rama" accompained with some cans together in a wire, after which, someone gave him a pandero, the instrument that marked his existence. Without any teacher other than his own intuiton, his musicality developed quickly and when he was 7 years old he was able to play at fandangos. While he was still young, the oportunities came and one was with ensemble Los Tigres de la Costa. He worked with this group for one year and travelled all around Mexico, dancing and playing 6 hours everyday. He also worked with Andrès Alfonso, a harp player also from Tlacotalpan who helped Evaristo to master his singing abilities. In the 1970s, in Tlacotalpan the Casa de la Cultura Agustìn Lara was established out of which came the group Conjunto Tlacotalpan that was formed by Evaristo together with Josè Aguirre "Biscola," and Cirilo Promotor. They performed together for more than 20 years travelling around Mexico and also visited different countries around the world. "Varo" also made an important work as a teacher; nuomerous children, young and adults shared with Evaristo the process of learning the pandero. Sadly, he died in 2006. You Tube.
Tereso Vega
Tereso Vega was born in Comunidad de Boca de San Miguel, Municipio de Tlacotalpan in Veracruz, Mexico where he lives. He comes from a family of musicians led by his father Andres "El Güero" Vega. Tereso plays the jarana guitar and sings since his early years and also plays other instruments like guitarra de son, pandero, and harmonica, among others. He played with the group Monoblanco and also for 15 years together with Ramòn Gutierrez in the group Son de Madera. With these groups, Tereso has played in different cities in Mexico, Europe, and the United States. Recently the Vega family recorded a CD as a tribute to Andres Vega. Check out Tereso Vega on You Tube.
Andrés Flores "Laudero"
Another great pandero player in Mexico is Andrès Flores who also makes these octogonal tambourines and other son jarocho musical instruents for sale. Andrés Flores was born in Alvarado, Veracruz, Mexico, and as a percussionist he performs regularly with the group Quemayama. As an instrument builder, he learned his craft in comunity workshops. Since 1996, Andrés has his own workshop in Coatzacoalcos city, Veracruz in Mexico where, together with his wife Carolina Pitalúa, he builds all kinds of jarocho musical instruments including jarana, guitarra de son, leona, and panderos, among others. After experimenting, making research and exchanging ideas with other luthiers, Andres has developed his own building techniques for many of these instruments.
Omar Flores Durán
Pandero player from Distrito Federal in Mexico and plays with the group Kumaltik.

ADUFE - PORTUGAL & Spain (Galicia)
Adufeiras de Monsanto

Portuguese adufe group from Monsanto led by Amelia Fonseca.
Portuguese maker and player of adufe (pandeiro quadrado). The making of these instruments has been in his family for a few generations. Paulo makes versions with pneumatic tuning systems in many shapes including square, triangle, diamond, hexagon, octagon, and circle. Checkout his website on how he builds his drums and to order.

Alfredo Ventura & Maria Rosa Fidalgo

Adufe players from Tierra de Miranda (Terra de Miranda) in the northeastern corner of Portugal.
Annabel Araico

Player of the pandeireta and pandeiro (in photo, also known as adufe) in the Galician style (northwestern Spain) and member of the Belgium group Néboa.
KANJIRA - INDIA
Primarily a singer who was coached in kanjira by G. Harishankar. Grandson of mridangam master Palghat R. Raghu. Located in Chennai.

A mridangam player who also performs on kanjira. Learned kanjira from B. Harikumar & V. Nagarajan. Located in Trichy.

V. Anirudh Athreya

Youngest Carnatic performer on kanjira (17 years old). Learned kanjira from his relative V. Nagarajan and now studies with T.K. Murthy. Located in Chennai.

One of the busiest Carnatic kanjira players in Tamil Nadu. Learned kanjira from T.K. Murthy. Originally from Bangalore, now located in Chennai. YouTube Video 1.

The most advanced Carnatic kanjira player in Tamil Nadu. Performs regularly with all of the top Carnatic vocalists and instrumentalists and fusion artists. Top mridangam student (A grade) of Karaikudi R. Mani. Grew up around G. Harishankar and learned his playing style on kanjira by observation. His power, speed, rhythmic complexity, and beauty in phrasing are that of a senior artist despite his age being only 24. Located in Chennai. Website.

The most advanced Carnatic kanjira player in Karnataka and most advanced student of G. Harishankar who has mastered many aspects of his playing style in terms of power, speed, rhythmic complexity, and beauty in phrasing. Performs often with all of the top Carnatic vocalists and instrumentalists and fusion artists and plays for marathon bhajan performances (up to 6 hours). Highly experienced teacher. A grade kanjira artist and also a great mridangam player who learned from Sri M. Vasudeava Rao and Sri A.V. Anand. Located in Bangalore. Website.

C.P. Vyasa Vittala

Former student of G. Harishankar and Sri Mushnam V. Raja Rao. One of the few kanjira players that did not also learn mridangam. Located in Bangalore.

Son of the late kanjira artist C.K. Shyam Sundar. Learned kanjira and mridangam from his father. Originally from Chittoor, now located in Chennai.

Dakshinamurthy Pillai

Mridangam and kanjira master in the early 1930s. Responsible for furthering the fingering from Pudukottai Manpoondia Pillai by applying more complicated mridangam fingerings to kanjira. His playing is said to have raised the level of kanjira playing. He learned kanjira from Pudukottai Manpoondia Pillai in the late 1800s.

Umayalpuram K. Sivaraman

At age 5 with kanjira. See his mridangam entry on the South Indian Percussionists Page for bio.

Govinda Harishankar

(1958-2002)

The greatest Carnatic kanjira player who ever lived. Still to this day, musicians are in awe of what G. Harishankar was capable of with one hand. His was born on June 10, 1958 and died on February 11, 2002. G. Harishankar started on kanjira at a very young age with his father Govinda Rao, started formal mridangam training with the legend Palghat T.A.S. Mani Iyer and then later with C.S. Murugaboopathy. He also studied with Ramanathapuram Sri C.S. Sankarasivam. He plays kanjira right handed but mridangam left handed (it is said that he did so to prove that playing mridangam was not as hard as kanjira so he switched to playing mridangam left handed). G. Harishankar is responsible for furthering the complexity of modern kanjira playing in terms of advanced techniques for speed, power, rhythmic complexity and beauty in phrasing (left hand bending of the skin). It is said in India by many of the senior percussionists that performed with him or witnessed him play that he could top any mridangam player he was matched with in a concert during the percussion solos (thani avarthanam). G. Harishankar on several occasions even out-played tabla player Zakir Hussain when they shared the stage in Malaysia and Europe. He had only a few students that carried on his secrets and techniques. Some of his best recorded playing was as a member of Sruthi Laya with Karaikudi R. Mani on mridangam, T.V. Vasan on ghatam, and Srirangam S. Kannan on morsing in the 1980s-1990s. To many in India, his death was proof that he was in fact human and not a god. YouTube Video 1. YouTube Video 2. YouTube Video 3.

Guru Raghavendra

Plays fusion with vina player Rajesh Vaidhya.

H.P. Ramachar

(1925-2006)

Sadly, Ramachar recently died on June 23, 2006. He was the oldest kanjira player in India at 82 years old. Responsible for introducing a new level of speed in the 1970s. Researched the history, construction of, and tuning of kanjira more than any other musician in India. His first concert on kanjira was in 1931 accompanying with mridangam master Palghat T.A.S. Mani Iyer. He learned mridangam from H. Puttachar and taught himself kanjira.

K.S. Rangachari

One of the older kanjira players still performing at 71 years old. Father of Mambalam Sisters, who he exclusively accompanies now. Began performing on kanjira in 1950. Learned mridangam and kanjira from T.R. Harihara Sharma (father of T.H. "Vikku" Vinayakram & T.H. Subashchandran). Originally from Kanjipuram, now located in Chennai.

Son of K.V.R.S. Mani. Learned from his father and T.K. Murthy. Mainly a mridangam player who also performs on kanjira. Located in Chennai.

K.V.R.S. Mani

Originally from Madurai, now located in Chennai.

Latha Ramachar

India's only performing female Carnatic kanjira player. She learned kanjira from her father H.P. Ramachar and also U.K. Sivaraman but has also had some training on mridangam. She is a member of the all female ensemble of percussion and saxophone called Karnataka Mahila Laya Madhuri and has performed all over India, Europe, and the USA with many of India's top artists. Located in Bangalore.

Palghat T. A. S. Mani Iyer (mridangam on left) and Palani Subramania Pillai (left hand kanjira on right, c. 1950s]

Palghat T.A.S. Mani Iyer (1912-1981)

Palghat T.A.S. Mani Iyer, one of two of the greatest mridangam players ever, was born in 1912 in Palghat, Kerala and died in 1981. He was named Ramaswamy during Namakaranam (naming ceremony) but when introduced to the music world as a mridangam accompanist at the age of ten, he acquired the name "Mani."

He first studied with Palghat Subba Iyer and Kalpathy Viswanatha Iyer. Later with Thanjavur Vaidanatha Iyer. Mani came into prominence after accompanying Chembai Vaidanatha Bagavathar in a music concert at Madras.

He was unusually talented in rhythm and quickly mastered the technique of the art of playing mridangam from his gurus and predecessors such as Azhaganambi Pillai, Dakshinamurthy Pillai and even studied the temple drumming of Kerala (maddalam, chenda, edakka, among others).

Before Mani Iyer's arrival in the music scene, the two mridangists Alaganambi Pillai and Dakshinamurthy Pillai (also a kanjirist), dominated the art of percussion playing. The innovations of Mani changed the style of mridangam playing as Y. G. Doraisamy points out: "It was Mani Iyer who started the now prevalent trend of the mridangam, not just keeping the time with tekkas and moras, but actively accompanying the musical phrasing, so as to be a rhythmic running commentary, reproducing on the drum all the subtleties and rhythmic complexities of the musical composition."

Palghat Raghu, a disciple of Mani Iyer, describes his guru as a genius in that he showed music followers the manner of blending with the music of the main artist in handling the kritis of every conceivable mood and tempo. By his consistent excellence he could raise the concert to thrilling heights. It was Palghat T. A. S. Mani Iyer who outplayed kanjira player Dakshinamurthy Pillai and reclaimed the front seat on the stage for mridangam players. Mani Iyer also occasionally performed on kanjira.

Palani Subramania Pillai

(1908-1962)

Born in 1908 and died in 1962, never recognized formally with awards for his innovations in the art of mridangam and kanjira (most likely because of prejudice that he was not Brahmin). Palani Subramania Pillai was a contemporary of Palghat T. A. S. Mani Iyer. Equally skilled at mridangam and kanjira, he was a left handed player.

His technique on mridangam is said to have been the first to introduce the gumki or bending of the bass head by sliding and pressing the hand into the skin. His technique is said to have featured more rhythmic complexity while Mani Iyer featured more beauty in the phrases that he played and how they fit the music he was accompanying. Both players had extremely advanced rhythmic and accompanying skill, and there really is no comparing the two with regards to which was a better performer.

P. Subramania Pillai was a student of his father Pazhani Muthiah Pillai and later Dakshinamurthy Pillai. In concert, Iyer and Palani were each other's favorite to accompany with as Mani played mridangam while Subramania played kanjira. One story goes that during one of their concerts in the percussion solos they traded phrases for an entire hour each not being able to top the other.

Pudukottai Manpoondia Pillai (1859-1922)

Born in 1859 and died in 1922, Manpoondia Pillai is considered to be the father of the Pudukottai school of percussion. He is also said to have invented the kanjira, which is not really true as the instrument and players existed before his time. What he is responsible for is introducing the kanjira to Carantic instrumental and vocal music beyond bhajans. His life story as a lantern bearer at the Pudukottai palace who rose to become a high ranking artist is one of triumph of the human spirit.

In his palace job in the mid-1800s, he was exposed to dholak and thavil players and became fascinated with thavil. Having first learned a frame drum local to the area (known then as daff), he soon became a student of thavil (he was left handed) and learned from Tirugokarnam Mariyappan.

Manpoondia (he was also known as Mamundi) displayed an unusual skill in that he could play all of the patterns he was shown that required 2 hands with 1 hand.

He also redesigned the kanjira of his time by reducing the number of jingles from 3 pairs to a single pair and replaced the ghungroo pellet bells that were common as jingles at that time with coins as the pellet bells made too much sound that distracted singers and other musicians. He also may have been the first to use Bengal monitor lizard skin (Varanus bengalensis bengalensis) in place of goat skin on kanjira making the instrument more suitable for Carnatic music.

It was Manpoondia Pillai that introduced a more complex laya into Carnatic music with his kanjira in the form of korvais and moras. He began accompanying bhajans and gained attention with his skill of being able with 1 hand to repeat anything a mridangam player could do with 2 hands at that time. Manpoondia Pillai is also said to have been influenced after hearing the mridangam playing of Narayanaswami Appa. Supposedly, after hearing Appa's playing, Pillai realized the tonal possibilities of melody oriented intricacies. This may have been how the bending technique on kanjira began to develop.

He began traveling around southern India to music centers introducing the kanjira and his skill at bhajan performances. Upon reaching Madras (now Chennai), Pillai was asked to accompany the singer Tiruvayyaru Subramaniya Iyer (also known as Patnam Subramaniya Iyer). Before the concert, Subramaniya Iyer challenged him and wanted to know what he was prepared to give up if he could not play what was sung at the concert. Pillai said that if he failed to play what was sung he was prepared to throw his kanjira into the sea and give it up completely. Subramaniya Iyer then said that if Pillai did play what was sung he would give up his place in the center of the stage to him and stop singing.

Subramaniya Iyer had prepared an intricate pallavi and sang it at the concert. Manpoondia Pillai heard it and played it back and started elaborating on it using his imagination. Subramaniya Iyer accepted defeat and decided to concede his place to Pillai. Manpoondia Pillai humbly declared that it was not his place, and that it was his desire to continue to accompany Subramaniya Iyer's music wherever he sang. The two went on to give numerous performances all over Madras and other places and this established the kanjira as a prominent instrument suited for accompanying in Carnatic music concerts. This is also how the kanjira player began sitting in front of the mridangam player because his skill level was higher than that of the typical mridangist at that time.

Manpoondia Pillai is also responsible for training the first Carnatic singer in his refined rhythmic concepts (Konerirajapuram Vaidyanatha Iyer) as well as training percussionists Dakshinamurthy Pillai, Pazhani Muthiah Pillai, and Seithur Zamindar in his rhythmic style on kanjira and mridangam. This brought a much higher level of performance to the stage in such trio concerts with the singer, mridangam player and kanjira player all trained in this more refined rhythmic style.

In his last years, he renounced worldly life, becoming a sanyasi under the name of Murugananda Swamigal.

Mayavaram Somusundaram

One of the older performers of kanjira who was still playing at 79 years old in 2006 (he died in 2011). He began performing Carnatic concerts in 1947 and learned mridangam and kanjira from Boobadhiveli. Originally from Mayavaram, was located in Chennai at timeof death.

(Nataraj Ganesan)

Born in 1964, Ganesh is a kanjira player specializing in fusion and has released the first instructional DVD for kanjira in the USA. He learned from T.H. Subash Chandran. Located in Chennai. Website.

Former student of G. Harishankar. One of the few kanjira players that has learned only kanjira and has never studied mridangam. Originally from Nerkunam, now located in Chennai. Additional e-mail.

One of the few mridangam players that still performs on kanjira. Neyveli travels most of the year for performances in Europe with top artists from India. He is a highly experienced teacher of both mridangam and kanjira and has trained students all over Europe. He learned mridangam from A.S. Balaraman and kanjira from M.N. Kandaswami Pillai. Originally from Neyveli, now located in Chennai. YouTube Video 1.

Located in Chennai. Mainly a mridangam artist but occassionally performs on kanjira. Born on July 2, 1935, Dorai started to play the mridangam at a very early age. His gurus were Sri Palghat Subba Iyer and Sri Palani Subramania Pillai. Guruvayur Dorai has played in almost all the prestigious music meetings in India and has traveled extensively all over the world. Carnatic music lovers in the US are familiar with his style since his first tour in 1974. Dorai is the recipient of numerous awards including the Kalaimamani - a title conferred in 1990 by the Tamil Nadu government, Asthana Vidwan of Kanchi Kamakoti Peetam in 1991, and Sangeet Natak Akademi Award in 1997.

Papanasam S. Sethuraman

Learned kanjira with Kalaimamani and Mayavaram Somusundaram and is self taught on mridangam. Performs regularly in Carnatic music and fusion, especially with Ghatam S. Karthick's Heart Beat. Originally from Thirunellveli, now located in Chennai. YouTube Video 1.

Born in 1972, Selvaganesh (also known as Chella S. Ganesh) is primarily a kanjira player specializing in fusion and perhaps is the best known kanjira artist outside of India having worked with Remember Shakti, Jonas Hellborg, Zakir Hussain, Free ~ Winds, Andrew Lum, and Rikhy Ray. He is also the first kanjira artist to have a CD released under his own name. In India, he works mainly in fusion and session work for film soundtracks and composes his own music via computer. His playing technique is unusual in that his touch is light and he often plays the open tone (dum) with an upstroke with his three fingers as opposed to the traditional classical technique that all other kanjira artists learned, which is to play the open tone with a down stroke of the index finger. Learned kanjira, ghatam, mridangam, and konnakol with his father T.H. "Vikku" Vinayakram but primarily with T.H. Subash Chandran. Located in Chennai. Alternate e-mail. YouTube Video 1.

Thanjavur Srinivas

Originally from Bangalore but now located in London, the Ghatam Brothers are R.N. Prakash (pictured above) and R.N. Prathap. They learned from Bangalore Vidwan K.N. Krishna Murthy. Both of the Ghatam Brothers are equally skilled on kanjira, mridangam, ghatam, and konnakol. Located in London, England, UK.

C.K. Shyam Sundar

(1938-2005)

C.K. Shyam Sundar learnt mridangam and kanjira initially from Thanjavur Ramadasa Rao and became a kanjira disciple of Pudhukottai Swaminatha Pillai. He accompanied Chithoor Subramaniya Pillai, Maharajapuram Viswanatha Iyer, Ariyakudi Ramanuja Iyengar and many other stalwarts at a very young age. He has played kanjira along mridangam legends such as Palani Subramania Pillai, Kuthalam Siva Vadivel Pillai, T.K. Murthy, Palghat Raghu, and Umayalpuram K. Sivaraman. He was a B-High grade artist for All India Radio and he worked as a lecturer in mridangam at the Tamil Nadu Music College, Madurai and he became a lecturer in kanjira at The Government Music College, Adyar, Chennai. He was awarded Kalaimamani in 1986 and received the Guruvayur Dorai Trust award in December 2004. Originally from Chittoor, relocated to Chennai during his career.



Mridangam player who also plays kanjira. One of the only Tamil kanjira players located in New Delhi in North India (where he was born). He learned mridangam and kanjira from V. Chandrasekaran, U.K. Sivaraman & Guruvayur Dorai.
Learned mridangam from Thenkasi K. Hariharan, kanjira from Pudukottai Paranbariyam, and mridangam, kanjira, and konnakol from Trichy R. Tayumaravai. Located in Trichy.

Thirukadaiyur T.K. Dakshinamoorthy

Kanjira player mainly for violinist Kunnakudi Vaidyanathan. Born in 1926, he is one of the older players still performing today at 81 years of age, and he sits in front of the mridangam player. His guru was Kuthaalam Siva Vadivel Pillai. Originally from Thirukadaiyur, now located in Chennai.

Thiruvayur Saikrishnan

Learned kanjira and mridangam from Kumbakonam Rajapa Iyer. Originally from Thiruvarur, now located in Chennai.

Thrikakkara Y.N. Shantharam

One of the few kanjira players from Kerala. Shantharaman learned mridangam from Serpala Gopalakrishnan and kanjira from Parashala Ravi. Located in Kerala.

Tirupur G. Sridhar Kumar

A mridangam player who also performs on kanjira, often with Smt. Nithyasree Mahadevan. Located in Chennai.

Trichy V.V.S. Manian

One of the few performers that accompanies on kanjira and konnakol. Learned mridangam, kanjira, and konnakol from Trichy Thayumnavar. Originally from Trichy, now located in Chennai.

Mainly a mridangam player who also performs on kanjira. Learned mridangam from B. Dorai Swami and mridangam and kanjira with Sri R. Vaidyanathan. Originally from Trivandrum in Kerala, now located in Chennai.

Primarily a mridangam player of the highest caliber, Trichy also performs on kanjira in Canada and the USA. Learned from Palani Subramania Pillai. Originally from Trichy, now located in Toronto, Canada. Website.
V. Nagarajan

(1930-2002)

Born on the July 30, 1930 and died in February 4, 2002. Son of violin player Sangeetha Kalanidhi Sri Papa K. S. Venkatramiah. Nagarajan was a mridangam player that developed a nerve problem in his right hand so he switched to playing kanjira left handed. He learned mridangam from Tanjore Sri Vaidyanatha Iyer for a few years and then with Palghat T. A. S. Mani Iyer for several years for both mridangam and kanjira. Palghat T. A. S. Mani Iyer taught him the traditional methods and techniques of kanjira. His first concert was at Trichy with the Alathoor Brothers in 1950. He taught kanjira at Wesleyan University in Connecticut as a Visiting Professor in 1967 and in 1974 he taught at the University of Berkeley-California.

Kanjira player who studies with Raja Rao, located in Toronto.
PANDEIRO - BRAZIL
Jackson do Pandeiro (José Gomes Filho)
(1919-1982)
Jackson do Pandeiro, alias, Jackson the Tambourine player, first wanted to play the accordion. But as his parents could not afford one, Jackson was given a pandeiro instead. His mother was a coco singer and played percussion instruments like zabumba and ganzá. When he was 13, Jackson moved with his family to Campina Grande, in Paraíba, where he had the opportunity of watching coco singers and guitar players performing at local markets. That's where his first artistic name, Jack, came up, influenced by American western films. In the 1940s, he moved to João Pessoa, performing in cabarets and on the radio. Later, he moved to Recife, in the state of Pernambuco (NE), where he adopted the name Jackson do Pandeiro. In 1953, Jackson recorded his first hits: "Sebastiana" (by Rosil Cavalcanti) and "Forró em Limoeiro" (by Edgar Ferreira). Three years later, he married Almira, and the two started performing together. In the same year, they moved to Rio de Janeiro, where Jackson was hired by Rádio Naçional, and became an overnight sensation among the audience and the critics due to his unique way of singing popular Brazilian rhythms, such as baiões, cocos, rojões, sambas, and marchinhas de carnaval. Jackson's music legacy can be found in new recordings of his work, such as "O Canto da Ema" recorded by Lenine, "Na Base da Chinela" recorded by Elba Ramalho, "Lágrima" recorded by Chico Buarque, or "Um a Um" recorded by the pop band Paralamas do Sucesso. A great composer and talented musician, Jackson recorded Brazilian Northeastern classics which became great hits among the general public, such as "Chiclete com Banana" (by Gordurinha & Almira Castilho), "Xote de Copacabana" (by José Gomes), "17 na Corrente" (by Edgar Ferreira & Manoel Firmino Alves), "Como Tem Zé na Paraíba" (by Manezinho Araújo & Catulo de Paula), "Cantiga do Sapo," "A Mulher do Aníbal," "Ele Disse" (by Edgar Ferreira), and "Forró em Caruaru" (by Zé Dantas). A biography about his life is Casaca de Couro: Uma Biografia de Jackson do Pandeiro - o Rei do Ritmo.
Márcio Jardim is perhaps Brazil's most refined pandeiro player and plays with the group Trio Manari from Northern Brazil. Trio Manari consists of percussionists Nazaco Gomes, Márcio Jardim, and "Paturi" Kleber Benigno. The group specializes in Amazonian music traditions and has revitalized the use of traditional percussion in contemporary Amazonian music. Trio Manari has arranged percussion music for many shows and recordings featuring the most prominent artists of the Amazon and has performed at PASIC in 2004 and 2007. The group has also recently performed at the Cayenne Jazz Festival and the 2007 PercPan Festival in São Paulo, Brazil. In 2007, the ensemble released the DVD Dançando no Rio with Brazilian singer Fafá de Belém.

Marcos Suzano

The Brazilian pandeiro player from Rio de Janeiro who is most widely known for helping to develop a newer technique and popularizing the playing of funk on pandeiro. He was influenced by the playing styles of Jorginho do Pandeiro and Celsinho Silva. Suzano made use of a new left hand technique where the pandeiro is turned/shaken in continuous 16th notes while the right hand strikes the skin. Influenced from his brief studies on tabla, he also changed the right hand technique in that the tips of the fingers as well as the thumb can be used for the low open tone while the plam is used for slapping. With this technique, a player can alternatively play open and slap sounds on downbeats or in syncopations while keeping the continuous turning/shaking. He also popularized the use of a thicker and much lower tuned skin. His newer style was most evident first on the recordings of the group Aquarela Carioca in 1993. He has had such an impact in and outside of Brazil that nearly all of the younger pandeiro players are now emulating his technique.

Bernardo Aguiar

Brazilian pandeiro player from Rio de Janeiro who has worked with the samba school Unidos do Santa Marta and the pandeiro orchestra Pandemonium. He has studied with Marcos Suzano and has performed with Rodrigo Lessa, Eduardo Neves, Fernando Moura, Alceu Maia, O Rappa, Kátia B., and Pife Muderno, among others.

Beto Cazes

Great Brazilian choro pandeiro player who has worked since 1976 with artists such as Coisas Nossas, Camerata Carioca, Radamés Gnattali, Joel Nascimento, Elizeth Cardoso, Nara Leão, Maria Lúcia Godóy, Nó em Pingo D'Água, Orquestra de Cordas Brasileiras, Baticun, Wagner Tiso, Orquestra de Câmera de Curitiba, Caetano Veloso, Martinho da Vila, Chico Buarque, Paulinho da Viola, Gal Costa, Maria Bethânia, Elba Ramalho, Nadinho da Ilha, Marco Pereira, Trio Madeira Brasil, Rabo de Lagartixa, Olívia Bington, Zé Paulo Becker, and Henrique Cazes, among others.

Celsinho Silva

Brazilian pandeiro player and son of pandeiro master Jorginho do Pandeiro. Equally skilled at choro and samba playing, he has worked with Nó Em Pingo D'Agua, Paulinho da Viola, Nara Leão, Dominguinhos, Joel Nascimento, Radamés Gnattali, Turíbio Santos, Elizeth Cardoso, Elba Ramalho, Francis Hime, Olívia Hime, Cristina Buarque, Moraes Moreira, Elton Medeiros, Nelson Cavaquinho, Roberto Ribeiro, Mariza Monte, Ademilde Fonseca, Zezé Gonzaga, D. Ivone Lara, Conjunto Época de Ouro, Rildo Hora, Guinga, Chico Buarque, Nelson Sargento, Geraldo Azevedo, Leila Pinheiro, Beth Carvalho, Gilberto Gil, and Ivan Lins, among others.

Jorginho do Pandeiro

Brazilian pandeiro player who began performing and recording in 1944. Father of expert pandeiro player Celsinho Silva. Known for his work with Conjunto Época de Ouro, he has also worked with Carlola, Jacob do Bandolim, Paulo Moura, Raphael Rabello & Dino 7 Cordas, and Arranca Toco, among others.
Paulinho do Pandeiro

Brazilian pandeiro and tamborim player who worked with Patrick Moraz in 1978 and also with Teresa Cristina & Grupo Semente 57, among many others.

Sergio Krakowski

Brazilian expert pandeiro player. Known for his work with the group Tira Poeira and Maria Bethânia, Lenine, Zélia Duncan, Olivia Hime, Francis Hime, Bnegão, and Beth Carvalho. He also experiments with electronics on pandeiro.
American pandeiro player and jazz guitarist living in Brazil.

Ron Powell

American pandeiro player and studio percussionist in California.
Mario Monaco

American pandeiro player and percussionist now in Canada. Plays in a more modern version of a largely urban playing style in which the pandeiro is kept mostly flat (largely unturned or unraised) in the left hand while the right hand moves around the skin.

Japanese pandeiro player and percussionist in Tokyo.
American pandeiro player and percussionist extrodinaire in California.

Luiz Carlos Xavier Guello

Master Brazilian pandeiro player and percussionist. Known for his expressive choro pandeiro playing with the group Modern Traditions Ensemble, Guello has also worked with Duoello, Orquestra Popular de Câmara, Trio Bonsai, Zizi Possi, Paulo Moura, Mônica Salmaso, Joyce, Marco Pereira, Toninho Carrasqueira, and Toninho Ferragutti, among others.
Brazilian pandeiro player who has studied with Marcos Suzano and has subsequently released instructional material of his technique on both CD-ROM, 3 DVDs, and a website.

Gilson de Assis

Brazilian pandeiro player now loacted in Germany. Plays with the group Tamburo Mundi.
Emerson Taquari

Emerson Taquari is one of the leading performers of the more modern pandeiro technique and has performed at leading percussion festival such as PercPan in Brazil, among others. He has performed with Ivete Sangalo, Gilbert Gil, and Daniela Mercury, among others. His CD is Pandeirotico.

Amoy Ribas was born in Brasília and from a young age had a good musical ear and rhythmic aptitude. Along with his parents, he enjoyed music from around the world - jazz, Indian music (tabla), Arabic music (dumbek), Brazilian folkloric music, choro, samba, baião, maracatu, frevo, as well as rhythms from the south of Brazil. He has lived in India and Germany. He started on drumset, but soon after was specializing in percussion, receiving praise from Hermeto Pascoal, as well being invited to perform and record on the CD Mundo Verde Esperança. He has also performed on several occasions at the Clube de Choro in Brasília with Ginga, Paulo Sergio Santos, and Arismar do Espírito Santo. Located in Rio de Janeiro, Brazil.

Carlinhos Pandeiro de Ouro (Carlos de Oliveira) is one of the world's leading performers on the pandeiro. Over the last 50 years he has recorded and toured with Herbie Mann, Ed Thigpen, Martinho da Vila, Beth Carvalho, Maria Bethania, and Sergio Mendes. He appeared regularly on Globo TV and Radio Naçional during the late '60s and '70s on programs such as Alerta Geral with Alcione and Brasil Pandiero with Betty Faria, as well as with Carlos Machada, Ataulfo Alves de Sousa, Emilinha Borba, and Jackson do Pandeiro. Carlinhos's original songs have been featured in the 1978 movie Samba da Criação do Mundo and on several albums of the Swedish pop icon, Sylvia Vrethammar, with whom he toured for many years. He is the dancing pandeiro player in the 1959 film Orfeu Negro. He is located in Los Angelos, California, USA.

Fogueira das Rosas

Fogueira das Rosas are Angélica Leutwiller and Valéria Zeidan. They are a duo of great singers and frame drummers who play many styles of frame drums and are located in São Paulo, Brazil.

Netinho Albuquerque

Netinho Albuquerque was born in Duque de Caxias, Rio de Janeiro in Brazil and is the nephew of the master, Jorginho do Pandeiro, who was also his teacher. He began playing pandeiro at 13 years old and has played with an impressive list of Brazilian musicians, such as Dona Ivone Lara, Luiz Melodia, Guilherme de Brito, Ademilde Fonseca, Violeta Cavalcante, Beth Carvalho, Conjunto Época de Ouro, Nó em pingo D'água, Délcio Carvalho, Elton Medeiros, Flávia Bittencourt, and Marcos Sacramento. He has performed in important venues such as Canecão, Rival e Teatro Municipal de Niterói, and has participated in the musical Chico Viola (Teatro Gláucio Gil) and with Clara Nunes (Teatro de Arena).

Claudinho Santana

Claudio Santana is self-taught and from Recife, and started his career through the mix of influences from his local music such as maracatu, coco, ciranda, afoxé, baião, cavalo, marinho, candomblé, and foreign music as well. He is influenced by Marcos Suzano, Maestro Spok, Jorginho do Pandeiro, and Sergio Krakowisk. His primary instrument is pandeiro but he also plays djembe, congas, and cajon. Recently, Santana has utilized his talents to incorporate the sounds of percussion with drumset. Claudio Santana has played in the Maracatu Estrela Brilhante from Alto José do Pinho for ten years, playing alfaia, a large bass drum, snare and shekere. Santana has played with international names like the New Orleans trombonist Rick Trolsen, Scottish groups called The Wha, Bloco Vomit, and MacUmba. Nationally, Santana has accompanied singers Gonzaga Leal, Kelly Rosa, Neneu Liberalquino, Mônica Feijó, Adryanna BB, Gina Solo, Geraldo Maia. He was also invited to accompany the pianist and founder of the piano department at UFPE, Elyanna Caldas. Santana was an instructor of the group "Corpos Percussivos" and the Irish group called MaSamba in Dublin, Samba ya Bamba in Glasgow, the Manchester Samba School in Manchester, the Edinburgh Samba School in Edinburgh, A Banda in Denmark, among others. He's sponsored by Contemporânea and is now located in West Virginia.

Rafael Pereíra

Rafael Pereíra grew up in São Paulo, Brazil. Inspired by the contagious sounds of street rhythms, parades, and outdoor concerts, he began studying drums and percussion at the age of 12. In Brazil, he had the opportunity to attend workshops with acclaimed percussionists such as Airto Moreira, Naná Vasconcelos, Luiz Guello, Marcos Suzano, and Alex Acuña, among others. His music is a fusion of traditional styles of samba, choro, frevo, maracatu, baião, and various styles of contemporary music. As a teenager, he co-founded and directed a samba ensemble, composing music and booking performances. After graduating from high school in 2002, he relocated to Atlanta, Georgia and began widening his studies in world music. Since then he has performed with several local artists, including Brazilian/Latin jazz guitarist Sasha Lisnichuk. In 2004, he co-produced two of Sasha's CDs in which he has also performed. He was featured in other CDs playing with different musicians from the Atlanta area. Endorsed by Pearl Percussion since 2005 and Cooperman since 2007, Rafael was invited to lead a workshop on Brazilian percussion at the 2007 Percussive Arts Society International Convention (PASIC) in Columbus, Ohio, one of the most prestigious percussion conventions in the world. He was also invited to perform and give a workshop in pandeiro at the North American Frame Drum Association, Inc. Frame Drum Fest 2008 in New Jersey. He has also organized a Brazilian "Batucada" group at Georgia State University and directed them at the Rialto Center of Performing Arts, in Atlanta, Georgia where he is now located. He currently plays with RUA 6 Band, voted the best Latin Band in the Atlanta area by USA Today. In 2007, he was invited again to host a workshop on samba and batucada at PASIC as well as teach at two regional percussion events; the Sonny Emory Summer Camp and the Jason Currin Festival. He is also busy organizing his batucada group called Bratuque, playing in the Sonny Emory State of the Art Band, recording his own solo CD, and producing instructional percussion videos.
Gilberto Campello
Gilberto Campello was born in Recife, Brazil and performs on all types of percussion playing. In 2003, he studied at the world-famous Instituto Superior de Artes in Havana, Cuba with a grant from the Aschberg Foundation/UNESCO to research the common roots between Cuban and Northeastern Brazilian music. In the USA, he studied modern techniques for frame drums with N. Scott Robinson and Glen Velez. An accomplished artist, he has received two honorary mentions from the Pernambuco State Arts Council (2003, 2005). Gilberto studied drumset and percussion at the Conservatorio Pernambucano de Musica with M. Chiappetta and A. Barreto. He performed in many folkloric music groups. As a member of the Brazilian ensemble Sa Grama, he recorded five CDs as well as several movies, documentaries, television specials and theater soundtracks. He also appears on releases of the new Northeast Brazilian Rock and folklore fusion bands. He has performed in concert halls such as Auditorio Che Guevara in Casa de las Americas (Havana, Cuba), Sala Funarte (Rio de Janeiro, Brazil), Millennium Stage at the Kennedy Center for the Performing Arts in Washington, DC, and the Brazilian Embassy. In Washington, DC, he taught Brazilian percussion at the Latin American Folk Institute and the House of Musical Traditions and was a resident artist of The Washington Performing Arts Society Artist Residencies from 2004 to 2007. He was also a guest lecturer at the Brazilian American Cultural Institute and the University of Maryland. He currently teaches percussion at Maracatu Brasil in Rio de Janeiro, Brazil, where he performs with Trio Barrilete, Os 3 Batutas, Guto Goffi, G.R.E.S. Caprichosos de Pilares, and in a special trio fusing choro and flamenco.
DOYRA - UZBEKISTAN & TAJIKISTAN
Perhaps Uzbekistan's most widely known and most refined doyra player. Resides in both Uzbekistan and California.

Rakhimahon Mazokhidova

One of the oldest and most respected singers and doyra players still living in Uzbekistan.

Doyra player from Uzbekistan. Plays with the Tashkent Group.

Doyra player from Uzbekistan. Plays with the Tashkent Group.
Shir Dor Madrassah Ensemble

An Uzbek ensemble from Samarkand that features several doyra players.

Tolkin Isakov

Tolkin Isakov, doyra player & percussionist from Tashkent, Uzbekistan, is currently residing in St. Louis, Missouri. He has been a percussionist with the National Symphonic Orchestra of the Republic of Uzbekistan and was the senior teacher of percussion and the Dean of the orchestral faculty at Tashkent State Conservatory in Uzbekistan. He has been a solo percussion performer for international concerts and festivals, an ensemble soloist for international concerts and competitions, and a teacher of music clinics and workshops at universities and colleges throughout the United Arab Emirates, Bahrain, Turkey, Russia, Turkmenistan, Azerbaijan, Kazakhstan, Kyrgyzstan, Uzbekistan, Tajikistan, Austria, France Germany, Switzerland, Greece, and the United States. He has recently collaborated with Remo on a synthetic Uzbek doyra and published a methods book for Uzbek doyra called Modern Methods of Doyra Playing.

Salokhiddin Fakhriev

Salokhiddin Fakhriev was born in 1976 in Samarkand, Uzbekistan. Growing up in a family of musicians, he was interested in percussion from an early age and began to study the doyra (Uzbeki frame drum) when he was six years old. Over the next several years, he traveled with his teacher to perform in summer music festivals in Moscow, Gorkiy, and Sverdlovsk. While attending the Mukhtor Ashrafi Conservatory of Tashkent, Salokhiddin taught percussion classes and continued to perform at weddings and festivals throughout the Soviet Union. After graduating in 1999, he also taught percussion in local elementary and secondary schools. In 2002, Salokhiddin immigrated to the United States, first to Connecticut where he was able to perform in nearby New York City, and then to California. In 2006, he performed at the PASIC festival in Texas with Abbos Kosimov. Salokhiddin currently resides in Oakland, California, where he continues to teach and perform on the doyra and darabuka and perform with the fusion group A Meeting at the Crossroads. He has a DVD for doyra called Doyra & Davul.
Sattor Fozilov was born in Chodschent in Tajikistan in a musical family and learned the Central Asian doyra at the early age of five. As a professional musician, he was committed to different state ensembles and went on concert tours worldwide. In 1999, he recieved the award "Deserved Artist of the Republic of Tajikistan." Sattor Fozilov is a master on his instrument in all styles of the traditional Tajiki music. His repertoire comprises not only of countless compositions for frame drums, solos, and group-dances, but he also accompanies instrumental and vocal-pieces from the classic Tajiki art-music makom as well as swift dance-music for Tajiki weddings. Among the musicians of this region, Sattor Fozilov is especially known for his outstanding technique and his virtuoso performances.

Yasha Barayev

One of the top Bukharan Jewish doyra players whose virtuosso playing style rivals that of the great Abbos Kosimov. He is now located in the USA. Alternate spellings of his name include Yasha Baraev & Yasha Barajev. Another great Bukharan doyra player is Ilusha Barayev (on right in video).
Ravshan Asadullaev became an apprentice of Ashrafhodajaev Toshpolathuja at the age of 9 for doyra. At the same time he also went to music school. He learned the theory of music there and the way of execution for the forms known as "Tajikcha-Bukharacha," "Hosil," and "Doyra Sairaidi," among others. Later Ravshan studied at technical school of culture and Tashkent State University of Culture. He is a master of Uzbek doyra and also plays tabla, kongi, and davul. He performs with the group Shodlik and is located in Tashkent, Uzbekistan.

Davronbek Ravshanbekovich Akbarbekov

A master of the Uzbek national percussion instruments doyra and nog'ora and a leading member of the Uzbekistan State Ensemble of Song and Dance for the Ministry of Culture in Uzbekistan. Davron was born in 1972 in the city of Tashkent in Uzbekistan. His father is the master of doyra Ravshan Ortikovich Akbarbekov who has devoted his life to the development of skill to play on doyra and has started to teach young Davronbek when he was three years old. His father worked for many years in the Bahor state ensemble of a song and dance called Mukarama Turgunbaeva. His father is credited with a large contribution to development of the Uzbek dance and new Uzbek rhythms. Davronbek performs with the group Shodlik and islocated in Tashkent, Uzbekistan.

Uzbek ensemble located in Tashkent featuring doyra players Ravshan Asadullaev & Davronbek Ravshanbekovich Akbarbekov.
DAF & DAYEREH - IRAN
&
GHAVAL - AZERBAIJAN
Safahan
All female Persian daf ensemble that performed at Tamburi Mundi Iran in May 2008.
Khalifeh Rahmeh
Throughout Kurdistan in Northwestern Iran, there are many spiritual groups whose practices have revolved around the daf since ancient times. Women and men are segregated in their ceremonies, and in most cases the women's groups use the same spaces as the men at different times. Khalifeh Rahmeh is the women's spiritual leader in Baneh, Kurdistan, Iran, and is the only woman within a large geographic area to construct her own khanegah, or meeting place, exclusively for the use of the women's community.
| | | |
| --- | --- | --- |
| Persian daf and tombak player now living in France. Born in Ghazvin, Iran in 1962, Madjid Khaladj began studying the tombak at age seven. Highly active internationally, he has perfomed in festivals, concerts, and conferences around the world. In 1984, he was invited to teach Iranian percussions at the Center for Middle Eastern Music Studies at the Institute of Musicology of Paris-Sorbonne. In 1996, he founded the Ecole de Tombak in Paris (Center for Iranian Percussion Study). Since 1998, he has also been teaching at the State Academy of Music in Basel, Switzerland (Musik Akademie der Stadt Basel in Switzerland). | | Persian daf and tombak player with Liän Ensemble. Now located in California. |
Persian daf player with Ensemble Samani and Zarbang (in which Reza Samani also plays daf). Located in Germany.

Persian daf player with the groups Zarbang, Dastan Ensemble, and Namah Ensemble. Now located in California.

Mehrdad Arabi Fard

Persian daf player with the groups Zarbang, Namaad Ensemble, and Namah Ensemble. Located in California.

Latif Tahmasebi-zadeh

Pioneering Azerbaijani ghaval player who was the first to introduce soloing on the ghaval.
Dzhabbar Kariagdiev

Azerbaijani ghaval player.

Haj Khalifeh Karim Safvati

(1920-2007)

Master daf player and singer of Sufi music from Kurdistan in Iran. He was born in 1920 and passed away in July 2007.
Khalifeh Mirza Agha Ghosi

(1928-2007)

Daf player and master singer of Sufi music of the Qadderi Order from Sanandaj, Kurdistan in Iran. He was born in 1928 and passed away in 2007.

Kourosh Moradi

Born in Guran, Kermanshah, Iran, and now located in California. Kourosh Moradi began studying tanbur at the early age of three with his father, legendary tanbur master, Ali Akbar Moradi. He also studied daf with the Sufi masters of the Yarsan Order and tombak with Ostad Hamid Moghadam. He has toured the world as percussionist with his father and other Kurdish and Persian master musicians, such as Hossein Omoumi, Madjid Derakhshani, and Pejman Hadadi.
Mohssen Kasirossafar

Persian daf and tombak player who is located in Rome, Italy. He has performed with K. Kalhor, M.R. Lotfi, H. Alizadeh, B. Kamkar, M. Aayan, Ennio Morricone, Giancarlo Schiaffini, Giorgio Battistelli, Angelo Branduardi, Mauro Pagani, Paolo Vivaldi, Giuliano Taviani, Andrea Morricone, Rita Marcotulli, Daniele Sepe, Andrea Parodi, and Antonello Salis & Alessandro Satta Duo, among others.

Bijan Kamkar

Bijan Kamkar is Kurdish and is a member of the group The Kamkars and plays tar (lute), rebab, tombak, sings, and daf, which he has introduced into the classical Iranian repertoire.
Mahmud Salah

The top Azerbaijani ghaval player living today. He performs with the Ghadim Sharq Ensemble. He has performed with respected Azerbaijani traditional musicians such as Alim Qasimov, Janali Akperov, Sakine Ismailova, professors and assistant professors of Azerbaijan National Conservatoire, tar performers Ramiz Quliyev, Mohlat Muslimov, Malik Mansurov, and kamancha performers Shafiga Eyvazova, Fahraddin Dadashev, among others.

Rowan Storm is an American player of daf and other frame drums. Since 1977, Rowan Storm has been singing, studying and performing a wide variety of traditional hand drums with some of the greatest masters of Middle Eastern and Mediterranean music throughout the Americas, Europe, and the Middle East. Rowan became enchanted with the frame drum through a performance of Kurdish daf in the mid-1980s, initiating her search to understand its meaning and history. In 2006, Rowan was invited to play daf within the circles of women dervishes in their ceremonies in Kurdistan, Iran. An intrepid musical, cultural, and linguistic explorer, Rowan has been living primarily in Greece since 1993, with Los Angeles as her western base. Rowan is building bridges throughout the world with her performances and unique Essential Frame Drum Method Workshops, which promote musical and rhythmic language development, and technique within a context that encourages integration of the two brain hemispheres. For details on her Iran travels, please see her web blog.
Seyed Ataollah Salamieh

Persian daf player who recorded the CDs Daf Maqams and Faryad-e Daf.

Vughar Musayev Gesang

Azerbaijani musician who plays tar (lute) and ghaval with the group Ghadim Sharq Ensemble.

Persian daf, dayerah and tonbak player located in Canada. He plays in several early, contemporary, and world music ensembles and is an active and a co-founding member of both Constantinople (Middle Age and Renaissance music) and Duo Prémices (soprano & percussion). Ziya has performed in several concerts in Canada, Mexico, Germany, USA, Greece, and Tunisia, notably with Hossein Omoumi, Keyhan Kalhor, Liu Fang, Kronos Quartet, En Chordais, and Studio de musique ancienne de Montréal and Caprice, among others.


Persian daf, tonbak, oud, and setar player who now lives in San Francisco, California. Pezhham Akhavass was born in Iran in 1980 and graduated with bachelor's degree in music from University of Tehran. Pezhham began studying the tonbak at 5 years of age with the guidance of Naser Farhanghfar. He continued learning the tonbak with Saeid Roudbary from 1989 to 1991. He started the daf when he was 9 years old, and in college he studied the setar and oud. From 2001, Pezhham began working professionally with the renowned vocalist Shahram Nazeri. He has performed in many notable music festivals world-wide and toured extensively in Iran, France, Morocco, Sweden, Austria, Italy, Australia, Finland, and USA. Akhavass has also performed with master Persian musicians Hossein Alizadeh, Aliakbar Moradi, Saeid Farajpouri, Majid Derakhshani, Hosein Yousefzamani, Masoud Shoari, and Shahram Nazeri. Pezhham has studied other percussion instruments including Indian tabla, kanjira, and ghatam.
RIQQ, MAZHAR, TAR & BENDIR
- TURKEY, WESTERN ASIA & NORTH AFRICA
B'Nèt Houariyat
Moroccan group of female singers, dancers, bendir, ta'arija (riqq), and percussion players whose name means "The Daughters of the Houara." Members include Zahra Bani (on ta'arija), Khadija Haliba (on bendir and ta'arija), Malika Rahmi, Saîda Madrani, and Halima Zeiter.
B'Nèt Marrakech
Spin off group from B'Nèt Houariyat of Moroccan female singers, dancers, bendir and percussion players whose name means "The Daughters of Marrakech." This group also performs on violin, ta'arija (riqq), and gembri (lute). Members include Malika Mahjoubi, Malika Ait-zouin "Aziza," Fatima Bakkou (bendir), Halima Chamkhi (ta'arija), and Fatima Malih (bendir).
Cheikha Rimitti
Great player of mazhar, bendir, and riqq and a great singer. She is from Algeria and has many recordings.
(1929-2006)

Nubian singer and player of oud and the frame drum tar (Nubia is southern Egypt & northern Sudan). He lived from 1929-2006.

Zohar Fresco

Great Turkish riqq player and frame drummer born and living in Israel. Plays with the singer Noa and Ziryab Trio.
| | | |
| --- | --- | --- |
| Bendir and riqq player from Morocco, now living in Germany. | | Riqq player and frame drummer from Turkey. Director of the annual European frame drum festival Tamburi Mundi and Tamburi Mundi Iran. |
Mehmet Akatay

Amazing Roma riqq player from Turkey. Plays with his brother Hamdi Akatay in Akatay Project.

Famous Egyptian belly dancer who also plays riqq (duf). Now located in Florida.
Hanna Mirhige

(1933-2000)

Lebanese riqq and tabla (dumbeck) player who was the first to teach Glen Velez riqq. His name at birth was "Hanna Merhej Baklouk" but upon settling in the USA it became "Hanna Mirhige." He is the younger brother of the great Arabic riqq player Michel Merhej Baklouk.

Hanna was a virtuoso riqq and dumbeck player. He was Lebanese but born in Jerusalem and attended the Conservatory of Music in Beirut, Lebanon. In the 1905s, Hanna was a featured performer at the Baalbek Festivals and the Casino du Liban in Beirut where he accompanied Arabic dancers such as Nadia Gamal, Naima Akef, and Samia Gamal, and the famous singers Fairuz and Sabah. Hanna first came to the USA in 1965 and performed with Simon Shaheen and Dr. Ali Jihad Racy. He moved to New York in 1968 to be the drummer for Ibrahim Farrah for whom he became Musical Director in his Near East Dance Group. He is known for playing riqq and percussion on many of the latter 1970s recordings of belly dance music by percussionist Eddie "The Sheik" Kochak and Armenian-American oud player George Mgrdichian. Although he was not the first riqq player in the USA, Hanna Mirhige helped to establish the riqq in the USA by teaching it and performing in major concert halls across the USA including New England Life Hall in Boston, Kennedy Center in Washington, DC, Shrine Auditorium in Los Angeles, and in New York at Madison Square Garden, Riverside Dance Festivals, Carnegie Hall, Avery Fisher Hall, and Lincoln Center. As the main teacher of Arabic riqq for Glen Velez in the 1980s, Hanna Mirhige is an important part of the history of the frame drum and it's establishment in the USA.

Lebanese riqq player (born in Jerusalem in 1928) and musical arranger who now lives in New York. He is the older brother of Hanna Mirhige. He has performed with some of the most important Arabic artists including belly dancers Tahiyya Karyoka, Samia Jamal, and Naima Akef, the singer Fairuz, and The Rahbani Brothers, Halim al-Rumi, Tawfiq al-Basha, Zaki Nasif, Filimon Wahbi, and Simon Shaheen, among others. He started performing with the Near East Radio Ensemble in Israel and Cyprus in the late 1940s and then in Lebanon in the early 1950s. He was one of the few musicians in Lebanon who could read Western notation and developed a method for teaching riqq, which spread across many of the Arabic countries. The book Eastern Percussion Methods by Elie al-Faqih (a former student of Michel Merhej Baklouk) is in fact the method of Michel Merhej Baklouk. His name is also often listed as "Michel Baklouk."
| | | |
| --- | --- | --- |
| Egyptian percussionist who sometimes plays the riqq. Started off as a jazz drumset player and eventually returned to playing Arabic percussion with Latin and African percussion. He also builds custom riqqs with several options including gold-plated jingles. | | Egyptian percussionist and dancer who plays riqq and Egyptian tabla. Performs with the group Sharq and is author of the DVD Riqq: Arab Tambourine, Complete Instruction - Technique, Rhythms, Accompaniment. Located in Massachusetts. |
Yinon Muallem

Arabic percussionist who plays oud, riqq, tar, darabuka, bendir, and other percussion. Born in Israel but of Iraqi origin. Yinon has performed with Ross Daly, Yair Dalal, Omer Faruk Tekbilek, Suleyman Erguner, Alim Gasimov, Zhubin Kalhor, Piris Eliyahu, Eyal Sela, Muhammed Alnuma, Sheldon Sands, and dancer Berrak Yedek. Author of the DVD Arabic Percussion. Currently located in Turkey.

Born in Lebanon and trained at Nadi al-Fonun al-Arabia (Conservatory of Traditional Arabic Music) in Aleppo, Syria. He excelled in both classical and ethnic rhythmic patterns and techniques, and received a Degree in Classical Arabic Performance. Now located in California.
| | | |
| --- | --- | --- |
| American riqq, tar, mazhar, zils, and tabla (dumbeck) player located in California. Author of one of the first books in the USA on Arabic frame drums in 1985 called Arabic Tambourine. | | American classical percussionist who also specializes in Arabic riqq and early music percussion. Located in Massachusetts. |
NATIVE AMERICAN & AFRICAN AMERICAN
- NORTH AMERICA
Ulali

Native American frame drummers and singers from California, USA. The group features Soni Moreno (Mayan, Apache, and Yaqui), Pura Fé (Tuscarora), and Jennifer Kreisberg (Tuscarora). This group blends all types of singing with Native American chants and drumming to form a unique contemporary Native American sound.

Black Eagle

Black Eagle is a group of young Native American frame drummers and singers who perform in a contemporary style by creating new songs in their traditional Towa language. They are from the Pueblo of Jemez in New Mexico and feature Kendrick Casiquito, Terrence Casiquito, David Yepa, Jr., Emmett Yepa, Malcolm Yepa, and Glendon Toya, among others.

Siqiniup Qilauta - Sunsdrum

Ensemble from Ottawa, Canada who specialize in traditional performances of Cooper Inuit kattajjaq (throat singing), drum dances & songs (with the qilaut in photo), and other traditional performances. Members include Emily Qattu Paniga Karpik, Tracy Aasivak Brown, Emily Arnainnuk Kotierk, Lynda Qaqasirija Brown, Kendra Tagoona, and David Joanasie.

Jack Ashford

American tambourine and vibes player from Michigan, USA, who played with with The Funk Brothers. Played a common tambourine on numerous Motown hit records between 1963-1972.
Rosalie "Lady Tambourine" Washington

African American tambourinist from New Orleans, Louisiana, USA, who plays for gospel and New Orleans music events. Her rhythmic styles rivals that of a pandeiro player in that her tchnique achieves all kinds of rhythmic and timbral variations.

Sister Gertrude Morgan

(1900-1980)

African American tambourinist from New Orleans, Louisiana, USA, who played in an older African American gospel tambourine style in which she achieves all sorts of rhythmic and timbral variations.
ORCHESTRAL TAMBOURINE - EUROPE & USA
American orchestral percussionist with the Boston Symphony Orchestra in Massachusetts. He makes one of the most popular orchestral tambourines with orchestra percussionists and is the co-author of the book The Art Of Tambourine And Triangle Playing.

Cristiano Pirola

Italian orchestral percussionist from Milan who plays great orchestral tambourine. Cristiano has incorporated Spanish pandereta techniques to play some orchestral excerpts on tambourine.
Chris Lamb
Hailed as a dynamic and versatile performer, Chris Lamb joined the New York Philharmonic as Principal Percussionist in 1985. He subsequently made his solo debut with the Philharmonic in the world premiere of Joseph Schwantner's Percussion Concerto, one of several commissions celebrating the Philharmonic's 150th Anniversary, and has since performed the work to critical acclaim with orchestras throughout the United States. Mr. Lamb also gave the world premiere of Tan Dun's Concerto for Water Percussion. In 1999, Mr. Lamb was the recipient of a prestigious Fulbright Scholar Award to lecture and conduct research in Australia. On the faculty of the Manhattan School of Music since 1989, Mr. Lamb has given clinics and master classes throughout the United States and on nearly every continent. Mr. Lamb has recorded chamber works on the New World, Cala, and CRI labels. A former member of The Metropolitan Opera Orchestra and Buffalo Philharmonic, he is a graduate of the Eastman School of Music in Rochester, New York. His technical skills on orchestral tambourine remain unparalleled. His technique is such that he is able to perform modern etudes for the snare drum on tambourine expertly executing all rolls, grace notes, and other intricate notation.

KOMPANG - MALAYSIA, BRUNEI & SINGAPORE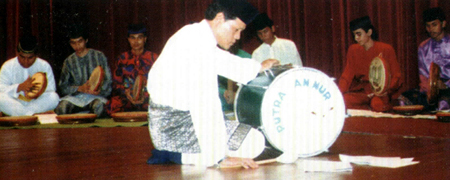 Singapore Hadrah and Kompang Association
A group from Singapore that specializes in both traditional and newly composed works for kompang and hadrah.
Azman
Malaysian kompang group.
Kompang Ezhar

Kompang Ezhar is the top Malaysian group for kompang performance (frame drum ensemble & song). They also play for pentjak silat (martial art) and perform traditional Malaysian dances.

Hadrah groups from Brunei

Similar to kompang ensembles, hadrah ensembles are common in Malaysia, Brunei, and also in Singapore. The Brunei ensembles play a small tambourine called tar (kompang are used in Malaysia & Singapore). Most elementary schools through the university level in Malaysia, Singapore, and Brunei have kompang or hadrah ensembles. The photo above is of several hadrah groups in Brunei playing the tar for the 60th birthday celebration of the Sultan of Brunei. The hadrah differs from the kompang ensemble in Malaysia in that hadrah perform a different set of rhytms in accompaniment to Islamic religious praise singing. The kompang traditionally play interlocking rhythmic patterns in accompaniment to wedding ceremonies and other religious or celebratory functions.
FRAME DRUMMERS - USA, CANADA & EUROPE
American master frame drummer, percussionist, and composer who is responsible for the world wide resurgence of the frame drum since the late 1970s. His style involved blending technical aspects of unrelated frame drumming traditions to form a unique style employed on many types of frame drums including bodhran, tar, bendir, riqq, tamburello, kanjira, pandeiro, and others. His teachings have spread world wide to the point that nearly all modern frame drummers can be traced back to the teachings of Glen Velez. Author of several books and DVDs on frame drums.

Layne Redmond (1952-2013)

American frame drummer who was one of the first proficient students of Glen Velez and who accompanied him on many of his earliest recordings of his compositions. Beyond her work with Glen Velez, Layne Redmond has gone on to leave a substantial body of work including award winning CDs, videos, and the book When The Drummers Were Women. In Salvador, Brazil, she has set up an institute of percussion based on the frame drum where one can study both Bahian percussion and a variety of frame drumming styles. Last located in North Carolina, ensembles Layne had directed included the Mob of Angels in USA, Kyprogenea in Cyprus, and Sundaryalahari in Brazil.

John Bergamo (1940-2013)

American percussionist, composer, and frame drummer who is known for his innovative approaches to percussion, composition, and outstanding percussion ensembles such as Repercussion Unit and Hands On'semble.

Andrew Grueschow, Randy Gloss, Austin Wrinkle, and John Bergamo. One of the most outstanding world percussion ensembles in the USA. Its members are known for highly refined playing on a wide variety of world percussion including many frame drums such as daf, riqq, pandeiro, kanjira, and others.

Higly skilled German frame drummer and multi-percussionist. Skilled in a variety of frame drum styles, he is the author of the DVDs World Percussion 1: Frame Drums and World Percussion 2: Riq and Darbuka.

Pedro Estevan

Frame drummer from Spain.

American jazz drummer and frame drummer. Originator of the Cooperman hadjira tambourine. Lives in Ohio, teaches at Berklee College of Music, and plays with Paul Simon and Dave Liebman, among others.

American tambourine player with the New Orleans groups, The Subdudes and The Dudes. Known for playing a common tambourine with a Blastick achieving the full rhythmic support of a drumset.

Originally from Bangalore, India. Now located in Canada. Inventive frame drummer and composer.

Canadian frame drummer and multi-percussionist. Performs with GaPa with Ganesh Anandan.
Gianluca Baldo

(1961-2008)

Italian frame drummer who lived in Spain. Gianluca was also an accomplished visual artist and was one of those that organized the first frame drum festivals in Europe known as European Frame Drummers Meeting with his organization and website Frame Drums Europe.

English percussionist proficient on frame drums, particularly the kanjira as well as a wide range of other percussion. He can be heard on many blockbuster film soundtracks and recordings and is the author of the book Indian Rhythms for Drumset.

B. Michael Williams is Professor of Music and Director of Percussion Studies at Winthrop University in Rock Hill, South Carolina. He holds the B.M. degree from Furman University, M.M. from Northwestern University, and Ph.D. from Michigan State University. Active as a performer and clinician in both symphonic and world music, Williams has performed with the Charlotte (NC) Symphony, Lansing (MI) Symphony, Brevard Music Center Festival Orchestra, and the Civic Orchestra of Chicago, and has appeared at several Percussive Arts Society International Conventions. He has written articles for Accent Magazine, South Carolina Musician, and Percussive Notes, and has made scholarly presentations on the music of John Cage and on African music at meetings of the College Music Society and Percussive Arts Society. In 2004, Dr. Williams received the Winthrop University Distinguished Professor Award, the highest honor given to a Winthrop faculty member.

Dr. Williams is Associate Editor (of world percussion) for Percussive Notes magazine. He is one of the first published composers of music for frame drums. His pieces include innovative works for frame drums and percussion including his "Four Solos for Frame Drums," which was the first published composition for frame drums. Additional works to his credit include "Three Shona Songs" and "Shona Celebration" for marimba ensemble, "Recital Suite for Djembe," "Tiriba Kan" for solo djembe, "Bodhran Dance," and "Another New Riq," all published by HoneyRock Publications. His book, Learning Mbira: A Beginning…, also published by HoneyRock, utilizes a unique tablature notation for the Zimbabwean mbira dza vadzimu and has been acclaimed as an effective tutorial method for the instrument. His 2005 CD recording, BataMbira, with Grammy-nominated percussionist and producer Michael Spiro, has been featured on National Public Radio, The Voice of America, and other broadcasts nationwide.
| | | |
| --- | --- | --- |
| One of the top American frame drummers, located in New York. Yousif has performed or recorded with Branford Marsalis, Foday Musa Suso, Philip Glass, and Glen Velez, among others, and is a member of the percussion ensemble Ethos. He performs in a unique world music inspired chamber music duo with violist Kathryn Lockwood called Lockwood / Sheronick Project. | | American frame drummer and multi-percussionist who is located in Baltimore, Maryland. He has worked with Malcolm Dalglish, Paul Winter Consort, Annea Lockwood, Glen Velez, R. Carlos Nakai, Bill Miller, and Benny Carter, among others. Composer of 9 pieces for frame drums in solo, duo, and ensemble format published by HoneyRock Publications and New World View Music. He is the founder of the North American Frame Drum Association, Inc. and reularly performs with Wind & Fire (with Mark Holland), Malcolm Dalglish, Ensemble Datura, and the Indian vocalist K.S. Resmi. |
Hearn Gadbois

American frame drummer now living in the Czech Republic.

Hakim Ludin

Frame drummer originally from Afghanistan, now living in Germany.
| | | |
| --- | --- | --- |
| French tambourinist who studied with Carlo Rizzo and Glen Velez. He was able to reverse engineer the Carlo Rizzo poly-timbral tambourine and make them available for other players renaming the instrument "Melodic Tambourine." | | Swedish frame drummer who plays with the group Bazar blå and has worked with Andreas Vollenweider, Johan Hedin, and Erik Steen Flamenco Fusion, among others. |
Vladimir Ivanoff

Frame drummer from Bulgaria.

American frame drummer who often plays with Yo-Yo Ma's Silk Road Ensemble and Glen Velez.
Alexis Nonis

Greek frame drummer with the group Endofonon.

American percussionist who uses frame drums in his work with the singer Haale.
American musician based in France, Steve Shehan is one of the most creative percussionists working today. He plays a host of instruments in very refined, musically sensitive, and endlessly creative ways including his "drumset" made from a djembe with bass drum pedal, axatse hi-hat, congas, djembe, floor tom on right and darabuca on left with ride, sizzle, and crash cymbals. He often plays this set up quite effectively with a pair of Moroccan grass brushes. He also performs on hang (hand steel pan), likembe, cristol organ, fame drum, and percussion. His frame drum style is unique in that he plays free hand style on an ocean drum or Persian daf and employs tamburello/bodhran-like techniques with djembe/conga soloing feels. He has worked with Bob Dylan, Paul McCartney, Paul Simon, and Peter Gabriel, among many others. He plays in a unique world-jazz trio in France called Hadouk Trio (highly recommended DVDs & CDs) and has many of his own recordings out available on his website for order.