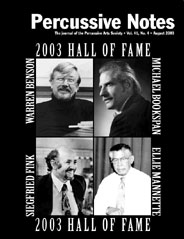 "Okay Temiz: Drummer of Many Worlds"

By N. Scott Robinson
from Percussive Notes 41, no. 4 (August 2003): 28-30, 32-34.


Turkish percussionist and drummer Okay Temiz has been a major force in jazz and world percussion in Europe since 1968. He has recorded and performed with seminal figures in world-jazz from all over Europe, India, Africa, and the USA including Don Cherry, Maffy Falay & Sevda, The Karnataka College of Percussion, Dexter Gordon, George Russell, Clark Terry, Nicky Skopelitis, Bernt Rosengren, Salih Baysal, Björn J:yson Lindh, Monica Törnell, Janet & Jak Esim, Yildiz Ibrahimova, Group Zourna, Audio Fact, and others. Okay Temiz has pioneered new forms of jazz in Europe that combine Turkish, Balkan, and Gypsy music with a jazz aesthetic in his own groups such as Oriental Wind and Magnetic Band, with whom he's appeared at the Montreux Jazz Festival in Switzerland and the Jazz Yatra festival in Bombay, India. He's released nearly 20 recordings under his own name and recorded for several film soundtracks in Turkey from 1980-1990. Today in Turkey he heads a massive percussion group of nearly 200 members that seeks "The Day of Rhythm." Okay Temiz is also a pioneer in instrument making having crafted a unique electric berimbau, a drumset made entirely out of double-headed hand hammered copper darbuka (even the bass drums!), huge racks of unusual cowbells called "artemiz," and a three-sided electronic drum he calls "magic pyramid." From behind a drumset, or on berimbau, kalimba, congas, darbuka, or other percussion, Okay Temiz is a drummer of many worlds. Reaching Okay Temiz at his home in Istanbul, Turkey, I asked him about his fascinating life and his many worlds of drumming.
NSR: What kinds of music did you grow up with in Turkey?
OT: My mother played Turkish classical music on the ud [lute] and cümbüs [banjo-mandolin]. So from an early age I was exposed to Turkish classical music by listening to her.
NSR: Did you attend a conservatory and if so, what did you study there?
OT: Yes I did attend the Ankara Akademi, which was primarily for Western classical music. I studied Western classical percussion there.
NSR: When did you start to play the drumset?
OT: I started to play the drumset in 1956 with a dance orchestra in Ankara. I continued doing this work for 16 years. At that time, the dance music was quite varied with different Latin styles from Argentina, Brazil, Cuba, Spain, and elsewhere. We also played jazz before the ballroom music and then late in the evening, we played another jazz set.
NSR: How did you develop your darbuka-drumset?
OT: After I finished at the Ankara Akademi, I went to a technical school in Istanbul as my father wished me to learn a trade. I worked with metals. I guess that gave me some experience and knowledge about tools for shaping drums that would be suitable for me. Since then I have mainly built my own instruments. In 1970, in Stockholm, I attached bass drum pedals to two large double-headed darbuka that I made. The sound was beautiful, and I started to build my own drumset that had three to four double-headed copper darbuka of different sizes as my tom-toms, two larger double-headed darbuka as bass drums, and I put them with a snare drum, floor tom, hi-hat, and some Paiste cymbals. After the success of this then I always built my own instruments, which are closer to me and give me my own sound and style. Now I use a standard 7-piece drumset made entirely out of hand hammered copper but I still use my darbuka-bass drum!
NSR: How did you develop your approach to the berimbau [Brazilian musical bow]?
OT: In 1973, Luis Agudo, a great percussionist from Argentina, came to Stockholm, Sweden to my home at that time, and I learned from him how to make a berimbau. We saw in front of the window of my house a poplar tree, and cut a branch to build my first berimbau. Since then, I have been using that same branch as my berimbau!
NSR: You have a technique on the berimbau where you hold the instrument between your chin and shoulder so that you can bend the tones of the string by sliding the coin up and down. What led you to develop this technique? What kind of coin do you use?
OT: That's a good question! I use a large finger cymbal [zil] instead of a stone or regular coin in my left hand, which also holds the berimbau. I sometimes grip the berimbau between my chin and shoulder almost like a violinist so that both of my hands are free. In this way, I can slide the coin up and down the string to get a lot more pitches. I am trying to feel like the sound is from the waves of the ocean. You can hear this technique on the track "Ocean Roller (Denizalti rüzgarlari)" from my LP Drummer of Two Worlds [1975]. Also, I often play an electric berimbau.
NSR: How is your electric berimbau set up?
OT: I came up with my own electric berimbau by collecting and trying many different electronic effects pedals and microphones. The gourd of my berimbau is tied to the bow in a different way so it doesn't move around easily, and I have a small microphone attached to the wood to amplify the string sound. In my right hand, I use a large caxixi with a microphone attached to the bottom and also hold the stick for playing the string. I have a third microphone on the bottom of the gourd so I can tap on it with my finger with a thimble, the coin, or with the stick. On the string of my electric berimbau, I use five different effects pedals: a Boss Super Chorus CH-1, Boss Super Phaser PH-2, DOD FX-70C Corrosion, Boss OC-2 Octave, and a Yamaha TB-01 Tone Booster. On the gourd, I use two different effects pedals: an Aria FL-01 Flanger and an Ibanez AF-201 Auto Filter. On the caxixi, I also use two different effects pedals: a Boss Bass Flanger BF-2B and an Ibanez AF-201 Auto Filter. I use a Barcus Berry microphone on the bow and contact microphones made by my uncle on the gourd and caxixi.
NSR: Were you influenced at all by Naná Vasconcelos?
OT: In my early years, yes I listened to a lot of Naná Vasconcelos records.
NSR: Who were your influences on drumset?
OT: While a student at the conservatory, around 1955, it was my first time to listen to records of Dizzy Gillespie's big band and jazz drummer Charlie Persip. I also listened a lot to jazz radio deejays, too. I got a lot of ideas just by listening to the music from records. During the 1950s-1960s, there was little or no possibility for jazz in Turkey though. For percussion influences, I was mostly influenced from African and Indian musicians. I also listened to those kinds of records.
NSR: What led you and Don Cherry to combine Turkish folk music with jazz in the late 1960s? How did you get involved with playing with musicians from Africa?
OT: In 1969, I met Don Cherry in Stockholm. Don was very much a visionary, and felt that there was a lot in Turkish folk music that he could enjoy for playing in a very free way with his trumpet. After one of our concerts in Helsinki, Finland, reporters were wondering why we played about 80% Turkish material. Don told them, "I get a lot of ideas, and there is the possibility to move with my instrument in any direction while playing traditional Turkish music in a jazz style." I lived in Stockholm for 23 years and a lot of African musicians moved there, too. So I also had the chance to meet and play with musicians from Africa while living in Sweden.
NSR: You have played with groups such as Sevda, Oriental Wind, or with Johnny Dyani. In these groups you combined all kinds of instruments and influences, such as gypsy, Turkish, African, Balkan, and Indian musics, with African kalimba, Brazilian berimbau, and Cuban congas with the drumset and jazz. How did you combine all of these different kinds of musics and influences?
OT: All of those instrumental colors and cultural influences; African, jazz, Gypsy, kalimba, cuica, berimbau, etc. Well, I have never used any instrument or idea from another culture without first having love, respect, and learning something of their background before I do it. If I don't understand and love the culture that I am influenced by then I don't feel like playing those instruments. My music was born out of searching and by having a love and interest in other cultures. Gypsies, for example, have been in my life with music since my childhood always. Sevda was the first group I played in that used traditional Turkish folk music with great Swedish jazz musicians. We recorded three LPs from 1972-1973, and it was a wonderful experience! Before that, I played with Don Cherry in some festivals around Europe in 1968 and then also with Johnny Dyani, the South African bassist, in 1969. Don Cherry, Johnny Dyani, and I kept on playing together at festivals and concerts. In 1970, we went to Dartmouth College in New Hampshire in the USA. I taught Turkish rhythms and combinations, Johnny taught African bass lines, and Don taught improvisation techniques during a three-month residency. After that I met another South African jazz musician named Mongezi Feza. Johnny Dyani, Mongezi Feza, and I formed a trio and recorded three LPs. We were always developing ideas, and we played African traditional music. Also during those years, I met Dollar Brand [also known as Abdullah Ibrahim] and we formed another trio with Dyani and played in Copenhagen, Denmark and Paris, France. In 1974, after all of these different kinds of experiences, I formed the group Oriental Wind, which was with Bobo Stenson on piano [from Sweden], Palle Danielsson on bass [from Sweden], Lennart Åberg on saxophones [from Sweden], and Ahmet "Haci" Tekbilek on ney [flute], tulum [bagpipes], and saz [lute from Turkey]. In this group, I played my darbuka-drumset, electric berimbau, kalimba, some flute, and all kinds of percussion. We played music that was mainly Turkish folk with Balkan, Indian, and African material but we played it like it was jazz music. We would play a traditional tune in 11/8, 9/8, or 7/8 a few times and then start to improvise on it. After the solos, we would play the tune again so we were doing traditional musics from these places as if they were jazz tunes in a very new and exciting way. This group was the most exciting experience for me! All kinds of folk musics flowing together with the freedom of jazz! We just played two reunion concerts in February 2002 in Turkey in Ankara and Istanbul.
NSR: As a jazz musician playing gypsy music and odd meters, how do you adapt your jazz playing on drumset to play comfortably in these different styles? What about when playing percussion in these contexts? How easy was it for you to learn straight ahead jazz?
OT: When you play the drumset like this, you need to feel both ideas at the same time; jazz and odd-meters of traditional Turkish folk music. In the beginning, combining these two playing styles took a lot of time and disciplined practice. I worked out all of the things that I needed to be able to do to suit the music and the way the musicians were playing. When I play percussion, I feel like I am more in a folkloric feeling. For straight ahead jazz playing, there were already so many great drummers. It was quite easy for me because I could feel it like it was my lifestyle.
NSR: In your travels, have you ever been inspired by seeing other musicians from different cultures to learn new rhythms or instruments that you incorporate into your own music?
OT: With Oriental Wind, we traveled for many years all around Europe with a lot of instruments. We drove thousands of kilometers in my own bus, and I did everything including the driving, being the road manager, taking care of business, being a technician, and also playing the drums! These were the conditions for many years. Of course, we traveled with open ears, listening to the sounds of street music and to the music festivals. Once we went to a jazz festival in Bombay, India called Jazz Yatra, and we met the Karnataka College of Percussion. Immediately we were interested about each other's styles and felt good vibrations between us. First we became friends and then we shared our musical culture. It was a great opportunity for Oriental Wind to meet the South Indian percussionists and vocalist. We did two recordings and a concert tour in Europe. Still our friendship is alive. I look forward to do any projects with them!
NSR: Why do you think it is so common for percussionists to incorporate influences, techniques, and rhythms from all kinds of music and cultures into their own global-percussive style?
OT: I think that if you are percussionist then you have to know as much as possible to express your feelings and to be creative . . . to express your ideas with quality. I feel strongly that one aspect of percussion is communication. That makes me listen and be open to other cultures.
NSR: How do you prepare for recording sessions?
OT: I try just not to play too many concerts before recordings and have some rest together with my family. In the recordings I have all of my sounds with me. I have in my mind some idea but it can change at any time during the recording process.
NSR: What kinds of non-musical influences do you have?

OT: I am very much into heavy physical fitness, and my hobby is doing mechanic handiwork.
NSR: Have you ever done any film soundtracks? What kinds of current projects are you involved in? What kinds of teaching do you do now?
OT: I did many film music projects including The Magic Box [Swedish TV], At [a.k.a. The Horse], and Splittring [both Turkish films] especially during the 1980s-1990s. My current projects involve some music therapy that I started when the big earthquake in Izmir and Istanbul happened in 1999. I started to give rhythm lessons to children who suffered in the earthquake. It became popular for people here to release their stress with rhythms and drumming. I knew it before but these last years it really showed me how rhythms are important for all kinds of people. I call the group of people playing with me my "Ritim Atölyesi," which is also my rhythm workshop. This is a project now that has come to be a hobby and some work for me. There are now 165 people who are continually playing 2-3 times a week with me. 200 more people are waiting their turn. Sometimes I go to companies to play with people from different positions in the company for better integration and communication in their workplaces. I have also done workshops for the telephone company in Turkey and Eurasian Coca Cola. This led me to develop "The Day of Rhythms" on February 2, 2002. When I lived in Sweden in the 1970s in Stockholm, I used to do this kind of rhythm work with handicapped children and with daycare centers in the community. But in Turkey, the amount of interest that there is today is something else. My next project with my rhythm students is to play together with mental patients in one of the biggest hospitals here in Istanbul. So the use of rhythms therapeutically has been an aspect my latest work in the Turkish community besides all of the playing and recording that I do. As a percussionist, I feel the need to respond to things that happen in communities. When I notice things like the earthquake, I feel a need to do a lot work, and I don't mean that the reason is for money. That's why I stress that the rhythms need to have their own day, "The Day of Rhythms."
For more, please see Robinson, N. Scott. "The New Percussionist in Jazz: Organological and Technical Expansion." M.A. thesis, Kent State University, 2002.

Interested readers may learn more about Okay Temiz through the following resources:

Okay Temiz website: http://www.okaytemiz.com/

Bibliography
Anonymous. "Turkish Riffs." Down Beat 44, no. 3 (February 10, 1977): 9.
________. "Sessiz Adamin Zaferi!" Ses (27 March 1982): 46.
________. "Okay Temiz: Oncé Dogu, Simdi De Uzakdogu . . ." Hey no. 688 (January 16, 1984): 11.
________. "Okay Temiz." Pozitif (May 1991): 23-24.
________. "Okay Temiz ile Söyleysi." Dans Müzik Kültür: Folklora Dogru 62 (1996): 93-109.
Blomberg, L. "Nya vindar I Oriental Wind." Orkester journalen (1986): 20.
Kennedy, Gary. "Temiz, Okay." The New Grove Dictionary of Jazz: Volume 3 (Nightclub-Zwingenberger). Edited by SPACEBarry Kernfeld, second edition. New York: Macmillan, 2002, 732.
Knox, Keith. "Whole Earth Jazz." Jazz & Blues 2, no. 4 (1972): 6, 8.
Lyrhed, T. B. "Okay faar musiken att svaeva . . . ." Orkester journalen (1983): 10.
Martin, D. C. "Orient Express." Jazz magazine no. 393 (1990): 22.
Robinson, N. Scott. "Okay Temiz: Drummer of Many Worlds." Percussive Notes 41, no. 4 (August 2003): 28-30, 32-34.
Scheiner, Michael. "Okay Temiz: Zwischen Orient und Okzident." Jazz Podium 32, no. 11 (1983): 16.
________. "Okay Temiz Fröhlich-spannender Grenzverkehr." Jazz Podium (November 2002): 24.
Wenger, Emanuel. "Okay Temiz: Weltmusiker am Schlagzeug." Jazzlive no. 136 (2003): 22-26.
Discography
Lennart Åberg
Partial Solar Eclipse LP 1977 JAPO 60023
Green Prints CD 1985/1986 Caprice CAP 1276
Acar Akalin
Adali Cassette 1989 [Cyprus, label and # unknown]

Sezen Aksu
Söylüyor CD 1990 Fono Müzik Istanbul CD 006

Angelite
Balkan Passions CD 2002 JARO 4234-2

Audio Fact
Black Spot CD 1998 Kalan CD 103

Salih Baysal
The Myth LP 1973 Sonet SNTF 739

Hans Calderas
Ziggidim LP 1979 Calderas Music Production HCLP-101

Don Cherry
Movement Incorporated CD 1967/1968 Anagram Records ANA-008
The Sonet Recordings: Live in Ankara CD 1969 Verve 533 049-2
Orient CD 1971 Affinity CD AFF 769 [also released as Don Cherry]
Blue Lake CD 1971 Snapper Music SNAD513CD
Organic Music Society LP 1971 Caprice RIKS LP 44.50
Dona Nostra CD 1993 ECM 1448
Cool CD 2000 Metro 596 [compilation]

Senem Diyici Sextet
Takalar CD 1989 Kalan CD 186

Johnny Dyani, Okay Temiz & Mongezi Feza
Rejoice LP 1972 Cadillac SGC 1017
Music For Xaba LP 1972 Sonet SNTF 642
Music For Xaba, volume two LP 1972 Sonet SNTF 824

Embryo
Istanbul/Casablanca CD 1998 Indigo 8536-2

Atilla Engin
Memories LP 1984 Danish Music Production DMLP 506
Marmaris Love LP 1985 Danish Music Production DMLP 510

Tayfun Erdem
Ararat: The Border Crossing LP 1985 EFA 0851.08

Janet Esim & Jak Esim
Sefardim 1 CD 1992 Feuer und Eis FUEC 710
Maffy Falay & Sevda
Jazz I Sverige '72 LP 1972 Caprice RIKS LP 1031
Live at Jazzhus Montmartre LP 1972 Caprice RIKS LP 1041
Live at Fregatten LP 1973 Sonet SNTF 665
Mongezi Feza & Bernt Rosengren Quartet
Free Jam CD 1972 Ayler aylCD-048/049

Floros Floridis, Nicky Skopelitis & Okay Temiz
Our Trip So Far CD 2000 M Records 520167601013

Four Drummers Drumming
Electricity CD 1991 Backyard Records Riff CD-911-2

Gjallarhorn
Ranarop: Call of the Sea Witch CD 1998 Elektra Asylum 19627
Gülbahar Uluer
Seher Yeli-Desmal CD 1996 Kalan Music 46

Lars Gullin
Bluesport CD 1974 EMI-Harvest 1364612

Mehmet Güreli
Cihangir'de Bir Gece CD 1995 Ada Müzik (no #)

Yildiz Ibrahimova
Balkanatolia CD 1997 Raks Müzik 006790

Metin Kahraman & Kemal Kahraman
Deniz Koydum Adini CD 1993 Ses Plak [# unknown]
Renklerde Yasamak CD 1995 Ada Müzik (no #)

Cem Karaca
Töre 1988 Cassette Emre HE 579

Karnataka College of Percussion & Okay Temiz
Mishram CD 1995 Raks Müzik 4055 [also released as Karnataka]

Björn J:yson Lindh [Björn Jayson Lindh]
Sissel LP 1973 Metronome MLP 15506
Second Carneval LP 1974 JAS 4000 [also released as Boogie Woogie]
A Day at the Surface LP 1978 Vanguard VSD 79434 [also released as Bike Voyage II]

Bo Nilsson
Drei Szenen/Fatumeh LP 1973 Phono Suecia PS 33
A Spirit's Whisper CD 1973 Phono Suecia PSCD 105-3 [includes the tracks from LP above]

Gunnar "Siljabloo" Nilson
Flickan med den bruna hyn & Det känns skönt, det känns bra 45 single 1972 Odeon E006-34609

Oriental Wind
Oriental Wind LP 1977 Sonet SNTF 737 [also released as Okay Temiz & Oriental Wind]
Live in der Balver Höhle LP 1978 JG Records JG 044
Zikir LP 1979 Sun Records SEB 11005 [this LP differs from the Temiz CD Zikir]
Chila-Chila LP 1979 Sonet SNTF 809
Bazaar LP 1981 Sonet SNTF 864
Live in Bremen LP 1981 JA&RO 007
Life Road CD 1983 JARO 4113-2
La conexión turca LP 1984 Guimbarda CFE 1984 [compilation]

Oriental Wind & The Karnataka College of Percussion
Sankirna LP 1984 Sonet SNTF 930

Bulutsuzluk Özlemi
Günesimden Kac CD 1995 Ada Müzik (no #)
Yol CD 1996 Ada Müzik (no #)

Nannie Porres
Karlekens Ögon LP 1979 EMI 062-35449

Bertice Reading
"House of the Rising Sun" & "Shake, Baby Shake" 45 single 1965 (Turkish label & # unknown)
"St. James Infirmary" & "Down by the Riverside" 45 single 1965 (Turkish label & # unknown)

Pugh Rogefeldt & Rainrock
Ett steg till CD 1975 WEA 246 257-2
Bernt Rosengren
Notes from Underground CD 1973 EMI-Harvest 1364622
First Moves LP 1977 EMI 062-35428

Nils Sandström
The Painter LP 1972 Emi Odeon 062-34659

Tony Scott
Manteca LP 1973 Sonet SLP 2543

Binali Selman
"Sac Bagi" & "Mehmet Turan Barir" 45 single 1970 Nisso Plak YE 7

Sema & Taksim
Hommage an Istanbul CD 2000 Peregrina Music 50071

Sifirbir
Kirik Kalpler Klübü CD 2000 Piccatura [# unknown]

Bobo Stenson
Rarum: Selected Recordings CD 2002 ECM 014214 [compilation]

Okay Temiz
Turkish Folk Jazz LP 1974 Sonet SNTF 668
Drummer of Two Worlds LP 1975/1980 Finnadar Records/WEA 58186
Zikir CD 1979/1981 Ada Müzik 500765 [this CD differs from the Oriental Wind LP Zikir]
In Europe Cassette 1988 Yanki Müzik Yapim YMC 138 [compilation]
Transparent Dervish CD 1989 Vasco Da Gama 8002 [also released as Misket]
Dervis CD 1989 Ada Müzik 500772 [also released as Dervish Service and Silver Hand]
Fis fis tziganes CD 1989 La Lichère CD LLL 107
Okay Temiz's Magnetic Band: Magnet Dance CD 1990 Vasco Da Gama VDFCD-8000
Magnetic Dance 1991 Cassette 1990 Bayar Müzik Üretim 125
Green Wave CD 1992 Uzelli CD 204
Fishmarket CD 1992/1994 Uzelli CD 210
Magnet Dance CD 1994 TipToe/Enja TIP-888819-2
Magnetic Band in Finland 1995 CD 1995 Ano Kato Records rei 2004 [also released as Magnetic Orient]
Black Sea Art Project CD 1996 Ada Müzik (no #) [this CD differs from the Greek release below]
The Black Sea Project CD 1998 Lyra ML 0660
Yasamin Ritmi—Balkan Art CD 1998 Banvit (no #)
Kutlama Celebration CD 1998 Banvit (no #)
Darbukas & Zournas CD 2002 Ada Müzik 8 692646 501946
Mehteran CD 2002 Ada Müzik 8 692646 501953
Kuzeyden Güneye Yansimalar "Senfoni" CD 2002 Ada Müzik 8 692646 501977
Okay Temiz ve Ritim Atölyesi CD 2002 Ada Müzik 8 692646 502127
Yihhuu CD 2007 Ada Müzik 8 692646 502912

Okay Temiz & Johnny Dyani
Okay Temiz & Johnny Dyani LP 1976 Yonca YCS LP 5013

Okay Temiz & Group Zourna
Karsilama CD 1998 Ada Müzik 8 692646 500789

Okay Temiz & Saffet Gündeger
Klasikleri 1 CD 1983 Atlas Müzik 8 691044 150121 [also released as Okay Temiz & Saffet Gündeger]

Okay Temiz & Sylvain Kassap
Istanbul'da Eylül CD 1989 La Lichère CD LLL 67

Monica Törnell
Jag ãr Som Jag ãr. . . LP 1977 Phonogram/Philips 6316 108

Various Artists
Dusty Fingers, Vol. 12 LP 1975 Strictly Break DF-9802 [compilation]
Trt Ara Müzikleri 2 LP 1975 Yonca YC 5015 [compilation]
Open-Air Arbon 1982 Live LP 1982 Delta Rec 8355-0019-D
Percussion Summit CD 1984 Moers Music 02056
2e Rencontre International de la Clarinette Populaire CD 1991 Kreiz Breizh RKB 03
Klam U Strane Kurdi: Kurdish Folk Music CD 1992 Yeni Dünya Müzik [# unknown]
Crossing Cultures CD 1994 Blue Flame Records BLF 40712 [compilation]
Tri Leta Druge Godbe, II 1994-1996 CD 1994/1996 Druga Godba CDG-002
Peregrina World CD 2000 Peregrina Music 50141 [compilation]
Swing Manouche 1933-2003 CD 2003 Fremeaux & Associes FA 5091 [compilation]
The Night of Tekkah CD 2004 Asia Production [# unknown]

Bengt-Arne Wallin
The Magic Box LP 1971 Sveriges Radio RELP 1131 [Sweden TV film soundtrack]
Wallin/Wallin LP 1972 Dux 6368002

Wutu-Wupatu
Wutu-Wupatu CD 1989 Ano Kato Records rei 2002
Videography
Laperrousaz, Jérôme (director). Amougies. 1969: France. [Brief performance by Cherry, Temiz, and Dyani at Actuel SPACEFestival in Amougies, Belgium].

Özer, Muammer (director). Splittring. 1984: Sweden. [Soundtrack with Temiz].

Özgentürk, Ali (director). The Horse. 1982: Turkey, King Video. [Soundtrack with Temiz].
©2003 - N. Scott Robinson. All rights reserved.